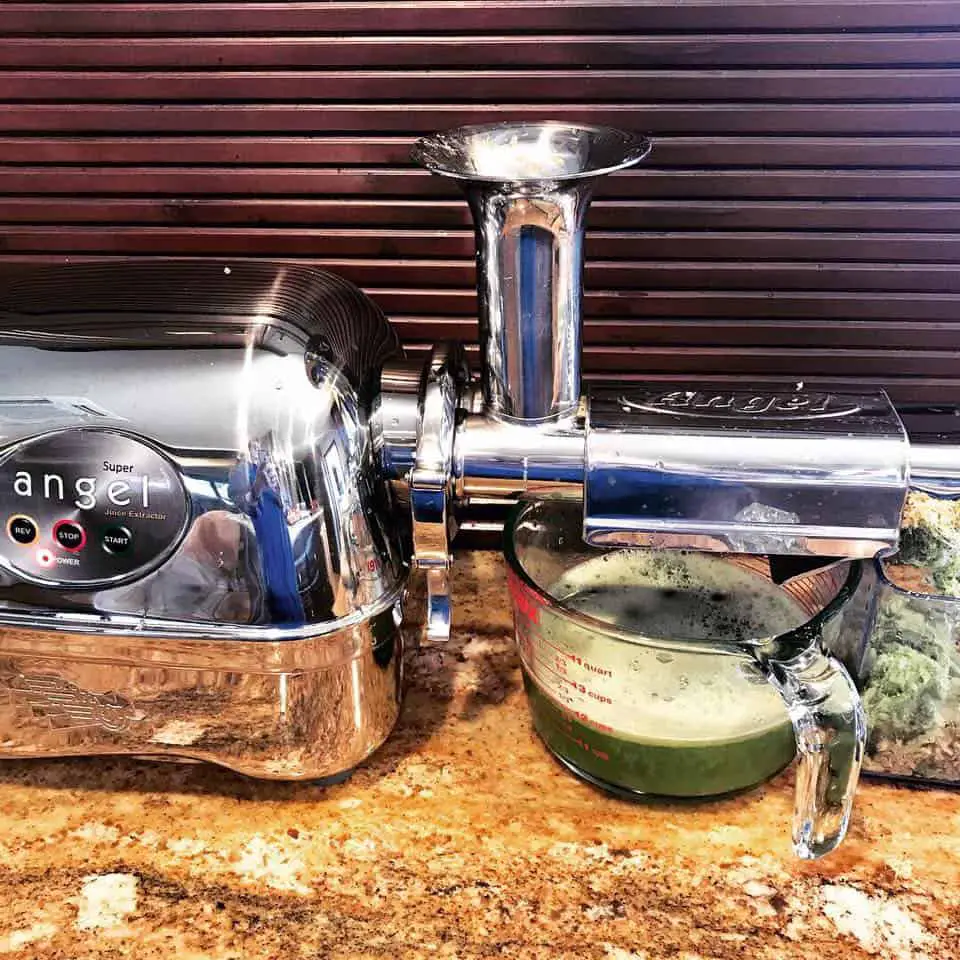 Thousands of people all over the world are aware of the Global Celery Juice Movement. People are enjoying healing benefits of drinking celery juice daily – a particular remedy action that Anthony William has been promoting.
People have found celery juice to provide them improvement, healing, and relief from various chronic and acute illness. That's why people frequently search what is the best juicer for celery. The following guide may help you to decide which juicer is more efficient for making celery juice.
Best Celery Juicer Overall Comparison Chart
Juicer
Cleaning
Warranty
Aicok Slow Juicer
(Budget Pick)
3 min.
3 Years
Check Price
Omega NC900 HDC Juicer
(Medical Medium Recommended)
80 sec.
15 Years
Check Price
KOIOS Juicer Extractor
3 min.
3 Years
Check Price
SKG Q8 Wide Chute Juicer
(For Small Kitchen)
2 min.
2 Years
Check Price
Super Angel Juicer
4 min
10 Years
Check Price
Tribest GS-P502 Greenstar
(For Business)
3 Min
15 Years
Check Price
What Type of Juicers are Best for Celery Juice?
With the enhanced popularity of celery juice, people have been concerned about which juicer is ideal for juicing celery. When it comes to celery, I suggest keeping away from high speed juicers. For the purest and best juicing yield, avoid centrifugal juicers.
Though both of the juicers produce some yield, the amount of nutrients may vary. In a centrifugal juicer, celery can clog easily and notably damage the juicing elements. As a result, the celery loses healing capability.
For the best results, I recommend you to stick with a vertical style slow masticating juicer. The single auger model and twin gear model both can juice fibrous vegetables efficiently. These styles are better as the celery fiber does not clog. These juicers produce adequate pressure that extracts all the nutrients and even the tougher vitamins and enzymes. Also, the cold pressing of a masticating juicer can reduce enzyme damage and oxidation that may occur due to the heat generated by centrifugal juicers.
Masticating juicers extract more juice in comparison to centrifugal juicers. It means you get your sixteen ounces (Anthony William's recommendation) of your celery juice using less celery and preventing food waste.
Another noteworthy benefit of slow juicers is that will be more quiet than a centrifugal juicer. This allows you to make celery juice in the morning without disturbing anyone else.
Below are the 7 best celery juicers that efficiently juice celery. Each juicer comes with different qualities and therefore different price points.
---
List of The Best Juicer for Celery 2020
---
1. Omega NC900 HDC: Best Juicer for Celery Medical Medium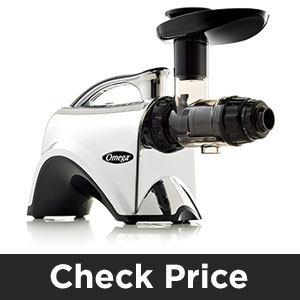 You can't go wrong with the well-known Omega series a great options is the Omega NC900 HDC. This is a slow juicer which sits quietly on your countertop. I consider it the best omega juicer for celery, medical medium recommended because of its function and higher yield.
It is a compact model with a contemporary design, don't let it's size fool you, it is a very productive juicer. The Omega NC900 HDC with its structure and function gives you the best of nutrient extraction and maximum juice yield. It produces highly nutritious juice from celery with a low speed of 80 RPM. Low pressure grinds your ingredients without damaging vitamins and enzymes with extra heat.
The machine comes with a 'reverse function' which works competently if the juicer gets any blockages or clogs. This machine is designed for greens and provides maximum juice yield, leaving completely dry pulp. Therefore, you will receive more celery juice and nutrients from NC900 HDC Juicer.
Top Features:
Low speed only 80 RPM makes continuous fresh juice, runs with 2HP motors.
Newly designed dual-edge auger comes with strong fit tolerance strains, breaks down ingredients to a palatable stage for smoother, nutrient dense fresh juice.
Gentle and slow squeezing movement keeps enzymes intact, delays oxidation and lessens heat buildup to increase the juice's shelf life.
Juice fruits, vegetables, wheat grass and leafy greens with fantastic yields of nutrient dense juice. Additionally can be used to make nut milks.
Automatic pulp ejection allows you to make juice continuously and makes clean up a breeze.
Check Price on Amazon
---
2. Aicok Juicer Extractor: Best Affordable Celery Juicer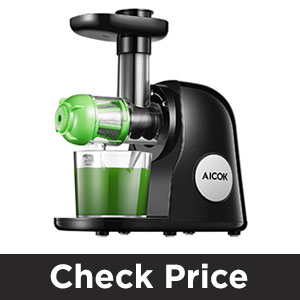 An ideal juicer machine, Aicok Juicer comes with strong and quiet motor, cold press technology and lots more features to allure your mind. The 80 RPM motor speed ensures actual grinding of the ingredients that you put into feed chute. Enjoy 90% extra nutrition growth, high vitamins, minerals, and enzymes free from much friction and heat.
Sometimes cleaning a juicer seems a nightmare to many people, but this juicer is easy to clean without any disturbance. BPA-free materials provide safe juices. Fruits are easy to juice and most of the tough green veggies also offer amazing yields. You can attain this incredible and affordable machine with 2-year regular warranty and 1-year additional warranty.
Top Features:
Reverse function improves the overall juicing procedure. Cold press juice extractor allows you to enjoy the maximum yields from any fruits and vegetables.
The 7-segment spiral system that you can upgrade depending on your needs. It produces more juice yields, most nutrition, and minimal oxidation.
80 RPM motor brings less foaming. No clogging ensures a longer running time efficiently.
Dishwasher safe parts are designed with modern technology. Sound less than 60 DB let you get pleasure from a calm life. PMMA materials are safe, effortless to assemble, and easy to clean.
Perfectly separate pulps from the juice. Proper pulp ejection system enables you to extract every drop of juices from ingredients.
Check Price on Amazon
---
3. KOIOS Juicer: Best Juicer for Celery and Greens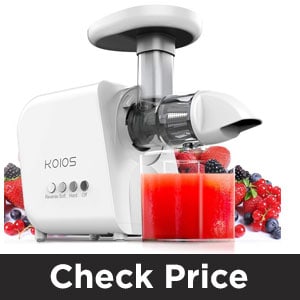 A slightly lesser known juicer, but within your tight budget, you can pick this economical juicer for celery. The juicer produces higher yields from fruits and vegetables and even from leafy greens.
The KOIOS juicer is featured with the newest juicing technology. It has achieved ETL, UL and FDA certification that declares its recognition by the experts. This juicer comes with some additional features, lifelong customer and technical support, 10-year motor warranty and 3-year for the rest of the parts. With a very affordable price, you can enjoy 3-month refund guarantee.
Top Features:
A low-speed juicer, rotates at 80 RPM, ensures the purest nutrients as opposed to conventional centrifugal juicers. You get more juice by the strong auger squeezing and crushing.
Low RPM preserves vitamins, mineral, enzymes and trace minerals. Low heat, less foaming, no clogging and keeps the oxidation to a lower level.
The machine enhanced the celery yield with up to 80% extraction which means more nutrients get released from the same amount of ingredients compared to others.
Reverse mechanism with twin gears enables you to control the direction and prevent clogging. Turning the machine in a reverse direction let you to take away what is jammed inside.
Juice can be safely stored for up to 3 days (72 hours) without juice separation or degradation.
The KOIOS juicer comes with two compartments which are detachable, making it convenient to assemble and disassemble. Noise is less, not more than 60 db.
Check Price on Amazon
---
4. Aobosi Juicer: Easy to Clean Celery Juicer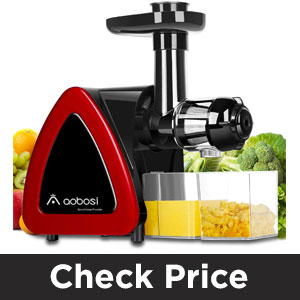 Aobosi is particularly designed for greens. But it can restlessly extract a variety of fruits and vegetables. The juicer allows you to make a cup of fresh juice within a few moments to nourish your daily life.
As a slow juicer, it extracts 20% more juices while retaining 30% more nutrients. The automatic juicing process produces a little pulp, less oxidation, and no vitamin loss at the end.
Top Features:
Auger spins smoothly at 80 RPM and ideally separate juice yield from the pulp. Slow speed ensures less heat buildup and natural flavor of the ingredients.
150W motor boosts the efficiency of the juicer. It runs noiselessly less than 60 DB, perfect for juicing at any time in your home.
With a glossy appearance, the small feeding mouth is developed to ensure the juicing ingredients are peeled and stoned perfectly.
The juicer is easy to assemble, disassemble, and clean. All the parts that draw close to foods are BPA-free healthy materials.
A safety lock, 'Reverse Function', and user-friendly structure make this a rich selection among many other slow juicers.
Check Price on Amazon
---
5. SKG Q8 Wide Chute Juicer: Best Small Juicer for Celery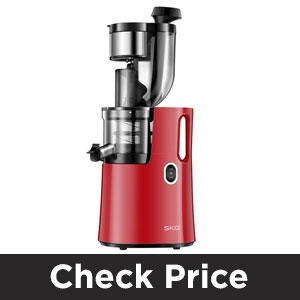 Besides many of the health benefits, SKG Q8 slow juicer can offer you amazing tasting juices with less oxidation and detrimental contents. Slow juicer prevents oxidation while keeping nutrients pure for boosting overall health. This juicer runs with only 45 RPM using a 200W AC motor plugin. As an extremely strong and power saving machine, it notably produces more juice yields than many other conventional juicers.
SKG juicer comes through a superior quality control system so that users can enjoy the incredible juicing experience and the best juices they really expect. An eye-catching compact design and stylish structure make you fall in love with this juicer. BPA-free, food grade materials ensure safe juices for everyday drinking. The juicer comes with a 30 days return policy and a 2-year limited warranty.
Top Features:
An innovative juicing technology produces delicious juice while leaving completely dry pulp with auto pulp-ejection mechanism.
Low-speed juicer applies masticating technology to juice ingredients which ensures the highest quality juices, less oxidation with only 45 RPM running speed.
A multi-functional juicer can juice almost any ingredients including celery, kale, oranges, carrot, apples, etc.
3.15" feed chute allows you to juice large fruits and vegetables, no cutting necessary in most cases.
1.75" opening enhances the efficiency of the juicer by increasing longer produce and you can juice anything without trouble, regardless of the type and size.
Check Price on Amazon
---
6. Super Angel Twin Gear Juicer: High End Pick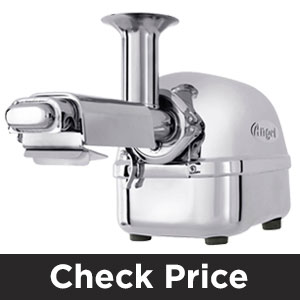 The Super Angel luxurious model is designed for the highest efficiency, longevity and ease of use. The deluxe model is a competent juicer for juicing sprouts, leafy greens, herbs and all other vegetables. If you have a high budget, you can go for it as it juice celery perfectly than other models of low budget.
This machine is faster and saves your time when juicing for your family or more than one person. Heavy duty construction, more reliable Super Angel All juicer enhances your peace of mind when juicing more confidently with two stage juicing system. It crushes and grinds ingredients into very smooth particles and you enjoy more natural outcome.
Top Features:
Comes with lots of improved features, main control board is noticeably enhanced and makes the juicer easy to handle.
Quite slow juicer, only 86 RPM keeps the yield more nutritious and healthy.
Two stages, twin gear system allow you to juice any vegetables and fruits. Surgical stainless steel made construction and BPA-free materials ensure the purity of yield.
Anti jamming mechanism, an automatic reverse system prevents any clogging. An automatic motor sensor controls the heats and protect from over heats.
10-year warranty on motor and parts ensures your secure and pleasant using.
Check Price on Amazon
---
7. Tribest GS-P502 Greenstar: Best Commercial Celery Juicer for Juice Bar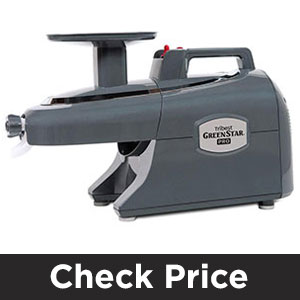 The Tribest GS-P502 is a pro designed juicer with an amazing 3-year warranty for commercial grade use and 15-year warranty for household use. It is one of the best slow juicer for celery. Tribest GS-P502 produces more juices and nutrients compared to all other Greenstar series.
The inner engineering has been designed with the best green-chewing device that works like human teeth. New gears are attached with all other parts that make the juicer easier to set up and easier to use than ever before. The Greenstar Pro has bio-ceramic technology that produces fresher juices without losing any of the precious nutrient content in the juice. Now, you can store juice for longer times with Tribest GS-P502 Pro.
Top Features:
Stainless steel made, tough and sharp steel gears mimic the grinding movement of human teeth. The heavy duty jumbo twin gears feature the magnetic and bio-ceramic technology.
Slow 110 RPM cold press machine, runs with 165 Watts motor power. It ensures less oxidation for high quality juice yields from all vegetables, fruits and greens.
New locking system ensures maximum convenience to remove turning knobs, assemble and disassemble the juicer.
Safety switch system prevents you from injury by eradicating chances of interacting with sharp and moving parts of the machine. The safety switch is included in the safety hood, when the hood is removed the machine stops running.
New designed adjusting knob boosts the efficiency of the machine. Knob's easy grip feature enables you to turn, grasp and manually manage the speed inside the machine.
Tamper holder gives you extra convenience.
Check Price on Amazon
---
Mueller Austria Ultra Juicer
Made in Germany, Mueller Austria Ultra Juicer is designed through professional-grade inspections that make it ideal and durable juicer. It gives you the highest celery juice yields with extremely dry pulp.
Top Features
Anti-drip design for easy clean up
The safety sensor for safer operation
2-year exclusive warranty
Check Price on Amazon
---
Homever Juicer Extractor
Comparatively an excellent juicer for celery and other leafy greens, it has gained its unique place due to maximum yield produce, minimal heat and oxidation, and less foaming.
Top Features
Low-speed to prevent clogging
7-segment spiral masticating system
Easy and quiet operation
Check Price on Amazon
---
Homgeek Juicer Extractor
Traditional juicer spins and cuts ingredients with a slow speed that produces less heat and oxidation. This Homgeek vertical juicer retains more natural nutrients and freshness intact in the celery juice.
Top Features:
Highly-efficient vertical slow juicer
Compact design to fit in any kitchen cabinets
FDA approved and ETL Certificated juicer
Check Price on Amazon
---
Breville Juice Fountain Plus: Fast Celery Juicer
Exclusive juicing system, constructed by the Italian-made micro mesh filter basket and titanium reinforced disc for the maximum celery yield and nutrients extraction.
Top Features:
Two-stage speed control for different ingredients
Froth separator for utmost efficiency
Faster juice preparation with larger chute
Check Price on Amazon
---
Caynel Juicer Extractor
This is the best option for the busy people who want a glass of celery juice in a short time. Extra-large feed chute and less chopping reduces prep-time while giving more healthy juice with minimal oxidation.
Top Features:
Multi-purpose juicer
Motor runs continuously and quietly
Piano varnish, sleek design
Check Price on Amazon
---
PopBabies Personal Blender: Travel Juicer for Celery
A compact-design blender is perfectly an on the go appliance. This portable blender helps with blending and juicing; produces smoothies, shake, baby food, protein shaker, and more for you.
Top Features:
Portable blender for the multi-purpose use
BPA-free and dishwasher safe construction
Rechargeable with a USB
Check Price on Amazon
---
Lexen GP27 Manual Juicer: Wheatgrass and Celery Juicer
It's simple and risk-free while offering you a glass of fresh juice. Everything is under your control and get what you really like to juice with this manual juicer.
Top Features:
Manual juicer for leafy greens and vegetables
Ease of use and easy cleaning
Durable juicer for longer use
Check Price on Amazon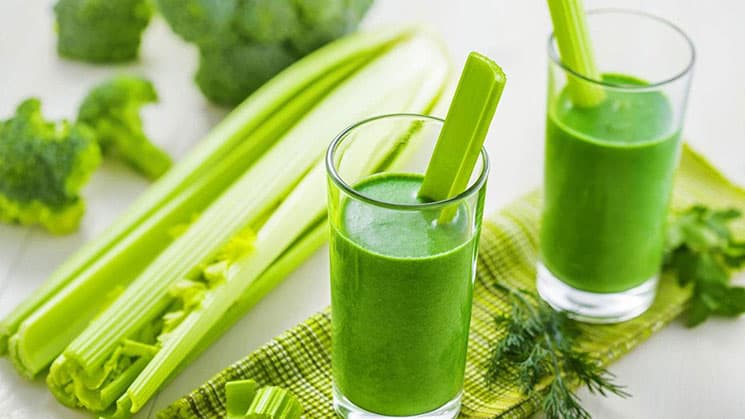 How to Make Celery Juice With a Juicer (Step by Step)?
You can make celery juice like all other vegetables. If you have previously juiced any vegetables, you can follow the same steps. However, I am pointing out the steps to remind you the exact way to make celery juice.
Make sure you have organic celery stalks, a juicer, a jug, a knife and a chopping board. You will also need vegetable wash or some water. A clean preparation area and a cup to keep the juice are also necessary.
Take the appropriate amount of celery that you want to juice. Celery is an incredible vegetable juice. It contains higher water contents and so you will receive adequate juice out of standard amount of celery. My experience says you should take it separately without mixing any other ingredients. It allows you to taste the pure celery and achieve a lot of benefits. So, clean the celery stalks itself. Only wash the sediments and get the dirt off from the bottom. You can use slightly warm water to clean up the stalks.
You do not need to remove any leaves that you see on celery. Because they are also full of vitamins. Now, we have celery ready to produce juice.
Prepare your juicer for the operation. Make sure you have a slow juicer if you want juice with full of nutrients. However, you can use centrifugal juicer too. You can put whole celery in the machine as it is quite soft vegetable. Ensure that your juicer is ready to the standard setup.
Keep a jug near your hand so that you can use that when required. When you will start juicing, the juice will appear in the cup immediately. You will use the jug to catch the waste that comes out the other side.
You are ready now and start juicing the celery. The step is just fun, put your celery in the juicer from the top. Wait a bit to collect the juice in cup. You might feel resistance, but do not stop pushing the celery. If you find any jams or your juicer stop running, turn off the juicer and run it again. You can bring the celery out and put them in again.
You can cut celery stalks if you find them a bit longer. Most of the times, I cut celery stalks and put them in the juicer. I found more yields and pleasant taste. Now, juice all the celery and leave them for a moment. It may take few seconds for all the drips to appear in the cup.
Take the juice in a glass and drink it. If you try celery juice at the first time, you might feel it slightly bitter. It will be alright after regular consuming of celery juice for few days. Don't add anything additional if you want natural taste and plenty of benefits. However, if you want you can add carrot or ginger juice.
You can put another cup under the juicer to catch any remaining drips. Generally, I receive 150 milliliters of juice from five sticks of celery.
Celery has its own strong flavor, so you do not need to add anything else. Adding carrot, ginger or apple can produce a different flavor.
Health and Nutritional Benefits of Celery Juice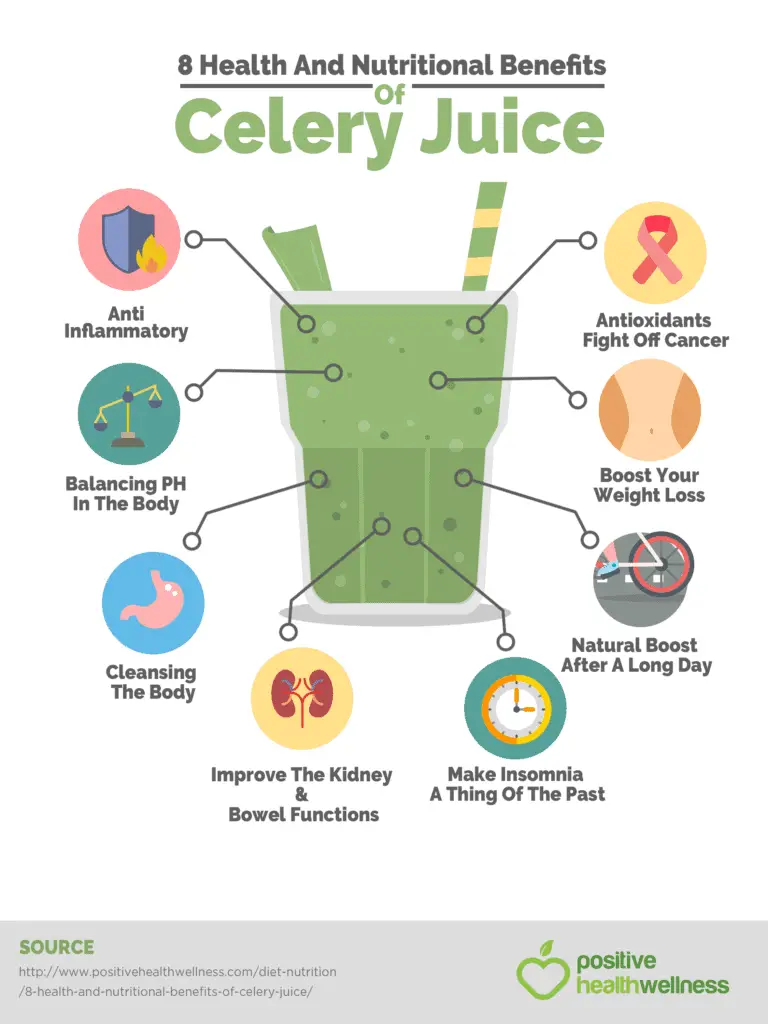 FAQs Regarding Celery Juice and Juicer
What is the perfect amount of celery juice to take daily?
Generally, the ideal amount is 16 ounces of straight juice from celery. Taking daily that amount of celery juice helps to receive maximum healing benefits. If anybody suffers with chronic symptoms or illness, he can increase the juice amount up to 24 to 32 ounces each day.

When is the ideal time to take celery juice?
Celery juice can be consumed efficiently in the morning before taking any food. This option is highly recommended, but if it is not possible there is another option. The 2nd best option is to drink celery juice anytime in the day 30 minutes before or after taking meal.
What is the best type of celery?
According to Fabhoms.com organic celery is always best, but don't worry if you don't find organic. Typically grown celery is available everywhere, you can purchase them easily. Before placing them in juicer machine, make sure that you give each stalk of the celery an efficient rinse in fresh water.
When can I prepare celery juice?
If you want to drink fresh juice and enjoy the natural taste, you should drink celery juice instantly after preparing. If you don't have scope to drink celery juice immediately, you can drink stored celery juice. Make sure that you drink juice within 24 hours after juicing. In some specific cases, you can keep juice in a mason jar with seal and store in a fridge.
Can I cut off the leaves before placing them in juicer?
You have both options, cut them off or leave them. The leaves of the celery taste a bit bitter. If you do not want bitter taste of your juice, cut them off.
Who can drink celery juice?
Everyone can drink celery juice and enjoy the incredible healing benefits. Usually, people are confused when it comes for babies, children and breastfeeding women. Celery juice is highly efficient for the development of children. Babies are also capable to consume it perfectly. Fresh celery juice provides adequate minerals, neurotransmitter chemicals and vitamin C for the new born baby. It also assists to detoxify and purify breast milk.
What is the best juicers for celery?
Though most of the juicers provide equal amount of juice, but the difference lays in the quality. Centrifugal juicers are unable to keep the elements natural in the juice. In my own experiment, I found high quality juice with amazing taste from slow juicer. No doubt, slow is a great choice for juicing celery.
Can I make pieces of celery stalk before putting them in juicer?
Depending on your celery juicer, you can make pieces of celery stalks. However, small pieces of celery can produce more juice as they are squeezed more competently.
Is there any ingredient that can be added for enhancing healing benefits of celery?
Drinking celery juice without any extra ingredient provides more benefits and work as a strong healing tool. Collagen, activated charcoal and apple cider vinegar denature and destroy celery juice. So, make sure to drink celery juice without adding anything.
Can celery juice cause any change in bowel movements?
When staring to drink celery juice, some people feel a change in bowel movements. This reaction can happen to those individuals who hold a higher level of toxins.
Final verdict
It is so handy when you own the ideal juicer for celery right in your kitchen. As you know how to boost your healing system, you must go for celery juice. For the best celery juice, a perfect juicer is a necessity. You are clear enough now which juicer is the best juicer for celery. Be careful when making your decision as the juicer is a quite good investment.
Also Read: Juicer black friday deals
DISCLAIMER: THERE ARE AFFILIATE LINKS IN THIS POST. THIS MEANS THAT AT NO COST TO YOU, WE WILL RECEIVE A SMALL COMMISSION IF YOU PURCHASE THROUGH OUR LINK. YOU MAY READ FULL DISCLOSURE POLICY FOR MORE INFORMATION.