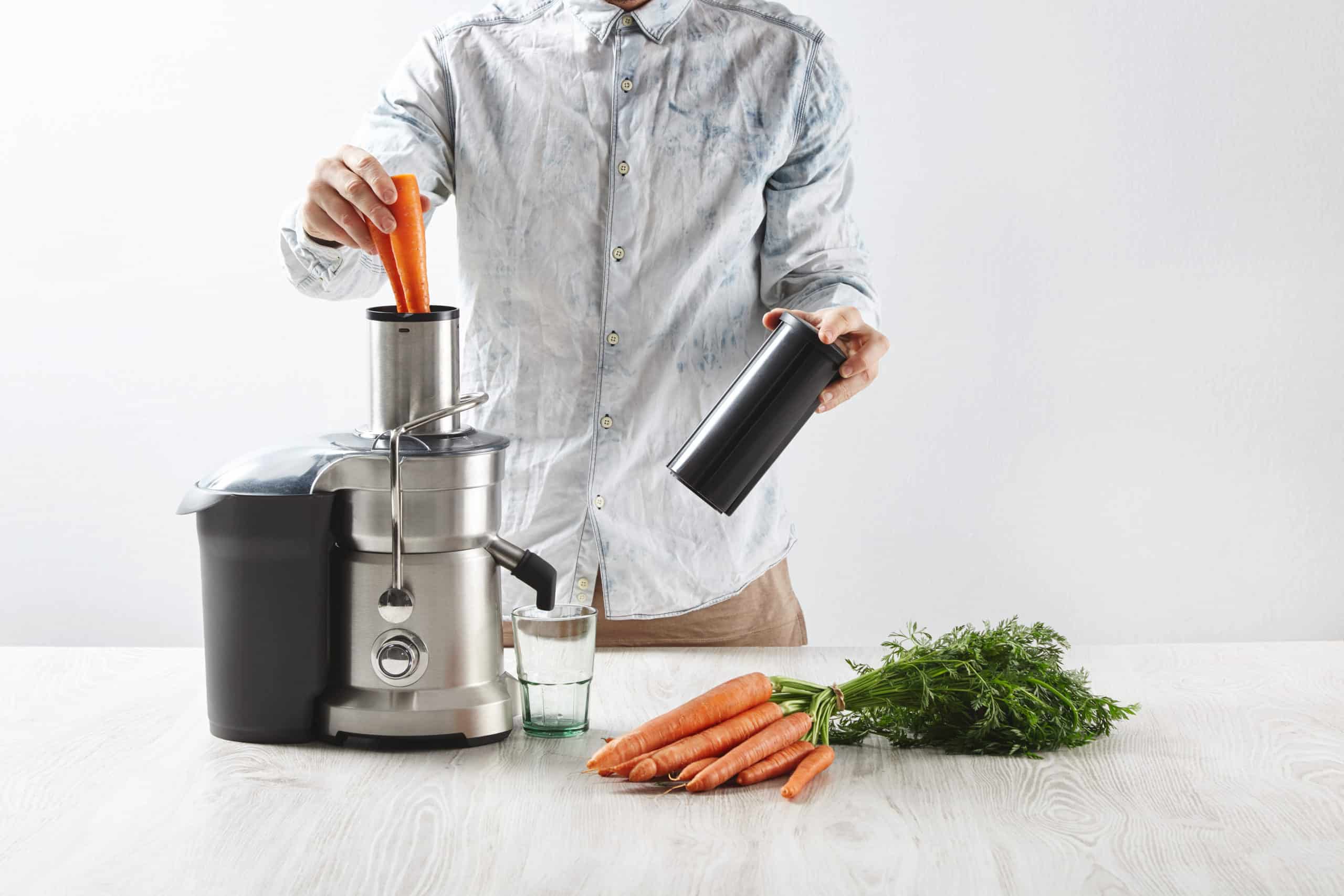 What is a Centrifugal Juicer?
Centrifugal juicers are high speed juicers that cut produce with a steel blade and then spin that produce at very high speeds against a mesh filter to separate the juice from the pulp, this spinning is known as centrifugal force, thus the name centrifugal juicer.
Centrifugal juicers are one of the more popular types of juicers on the market, their popularity skyrocketed after the 2010 documentary film, Fat Sick and Nearly Dead, where Joe Cross uses a Breville brand centrifugal juicer to juice for 60 days.
Centrifugal juicers are popular, but does that make them the best type of juicer to buy? These related posts will help answer that question.
---
---
How do Centrifugal Juicers Work?
Produce is fed through the top of the juicer, that produce is then cut with flat cutting blades and spun at between 6,000 and 16,000 rotations per minute against a mesh filter. This high-speed spinning separates the juice from the pulp by use of centrifugal force.
Juice is then extracted from one area of the juicer into a container, while the pulp is extracted from a different area.
Assembly and Cleaning Centrifugal Juicers:
Assembly of centrifugal juicers can be done quickly in only 3 steps:
Set juice collection bowl on top of juicer base
Insert spinning blade inside of juice collection bowl
Lastly, set hopper on top and lock into place
Cleaning of centrifugal juicers can be done in four easy steps:
Remove hopper, wash, and place on drying towel
Remove spinning blade, wash, and place on drying towel
Remove juice collection bowl, wash, and place on drying towel
Lastly, remove pulp collection container, dump, wash, and place on drying towel
As you can see assembly and cleaning of centrifugal juicers is simple given the few components that make up this type of juicer.
Speed of a Centrifugal Juicer:
Centrifugal Juicers spin at anywhere from 6,000 to 16,000 RPM's, or rotations per minute. That means that the blade and filter inside the unit is spinning up to 16,000 rotations each minute you are juicing.
To give you reference of how fast this is, a jet engine spins at around 10,000 to 25,000 RPM's. So, you basically have a jet engine on your counter!
You may think, fast is good, but spinning at such a high speed introduces higher levels of oxygen into the juice which leads to a juice that will oxidize, a.k.a. break down, faster.
To give perspective, a masticating or slow juicer will spin at around 40-120 RPM's, meaning a centrifugal juicer spins about 150 times faster than a masticating juicer.
When juice speed is talked about it is usually referring to how quickly the juicer spins and not how quickly the juicer will make juice, see below for how quickly a centrifugal juicer extracts juice.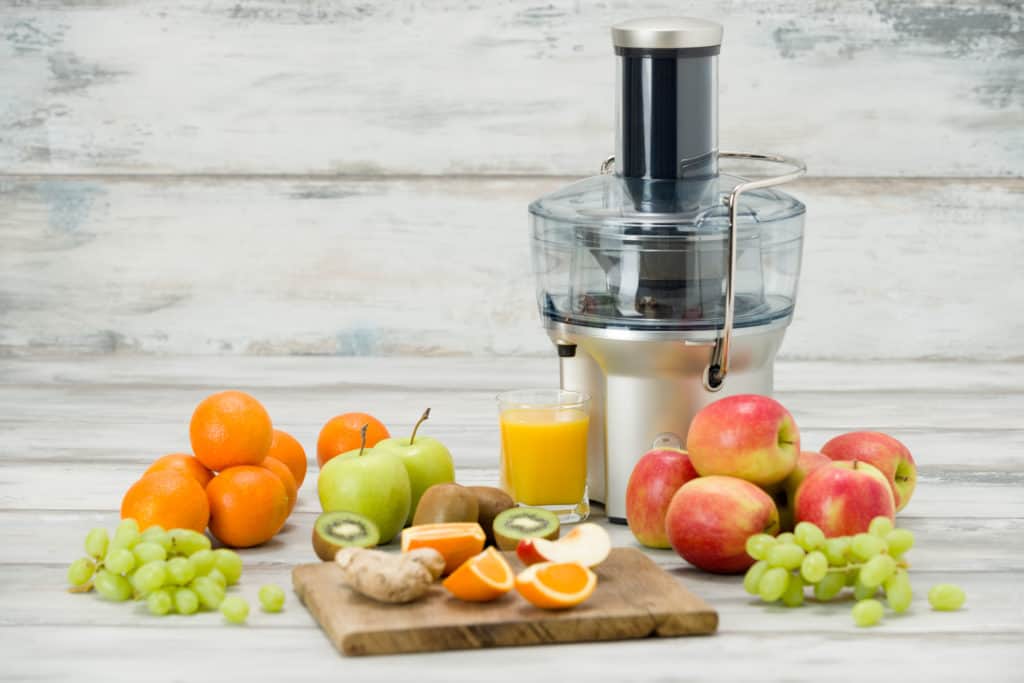 What kind of Juice is a Centrifugal Juicer best for?
Centrifugal juicers are best for juicing dense fruits and vegetables, think carrots and beets, or apples. While centrifugal juicers can juice leafy greens, a masticating or slow juicer performs better with leafy greens, especially wheatgrass.
Do Centrifugal Juicers Destroy Nutrients and enzymes?
A centrifugal juicer does not appear to destroy nutrients and enzymes.
Based on the study below it seems to extract some nutrients just as well, or event better when compared to slow masticating juicers.
The second study below does however show that centrifugal juicers do not extract or preserve as many cancer fighting nutrients as slow masticating juicers do.
The below graphs are from the first study I referred to; you will notice that centrifugal juicers seem to be just as good as slow juicers at extracting certain nutrients from different types of juices. (Source)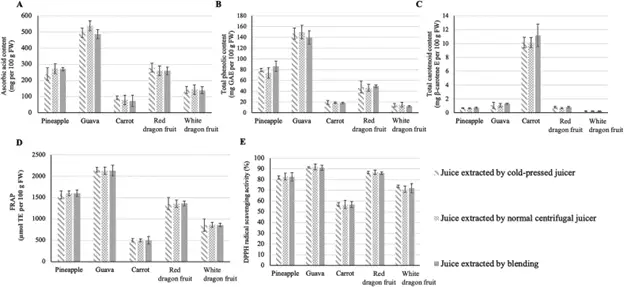 Below is a graph from study two that shows a bit of a different picture when comparing the inhibitory activity of broccoli juice on 6 types of cancer cells.
Method 1 is a slow juicer, method 2 is a centrifugal juicer, and method 3 is a blender.
You will notice that Method 1, the slow juicer, outperforms the centrifugal juicer in 5 out of 6 categories. (Source)
This is important to consider if you are selecting a juicer based on its anti-cancer support.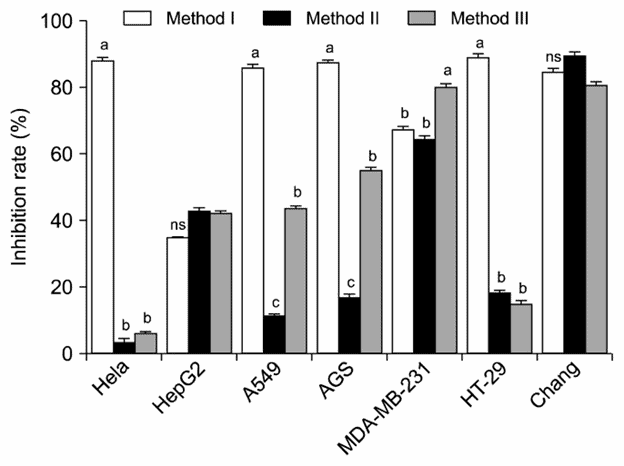 The fact that centrifugal juicers destroy nutrients and enzymes seems to be common knowledge in the juicing industry. However, the data is not as clear as some make it seem, I hope these 2 studies give you a better picture of how well centrifugal juicers do at extracting enzymes and nutrients.
Do Centrifugal Juicers Yield More Juice than Masticating Juicers?
No, centrifugal juicers do not yield more juice than masticating juicers.
In one comparison, centrifugal juicers did extract more juice from an orange than its masticating counterpart, however; in that same comparison the masticating juicer extracted slightly more juice from carrots, and a staggering 67% more juice from kale.
Here is the link to the juice yield comparison and cost savings analysis of a masticating vs. centrifugal juicer.
How Quickly Does a Centrifugal Juicer Extract Juice?
A centrifugal juicer will extract juice very quickly, you can expect 8 ounces of juice in 30 seconds.
While this fast speed is convenient, you will sacrifice the amount of time that you can store your juice, as the juice will degrade quickly given the amount of oxygen that is introduced during the juicing process.
Do Centrifugal Juicers Remove Fiber?

Yes, Centrifugal juicers do remove the fiber from the produce you are juicing.
This is done by using centrifugal force to separate the juice from the pulp.
The juice is extracted from one port, while the pulp is extracted from another.
How Reliable are Centrifugal Juicers?
Centrifugal juicers can be as reliable as masticating juicers, but you will notice that while masticating juicers are more expensive, they often offer longer warranties.
Breville, the most popular centrifugal juicer brand, offers 1-year warranties. In comparison, Omega offers a 10-year warranty on their masticating juicers.
How Loud are Centrifugal Juicers?
Centrifugal juicers are very loud, the 120 decibels of noise they produce is equivalent to a jet plane during takeoff!
How Long does juice from a Centrifugal Juicer last?
Juice from a centrifugal juicer can be safely stored for up to 24 hours. However, given the amount of oxygen that is introduced during the juicing process it is recommended to drink juice from a centrifugal juicer immediately after juicing.
Immediately after juicing your juice will have the most nutrients it will ever have, the nutrients start degrading immediately. While this is true for juice from all types of juicers, it is more of a concern with centrifugal juicers as the degradation happens more quickly due to increased oxidation during the juicing process.
Centrifugal Juicer Pros and Cons:
Should I purchase a Centrifugal Juicer?
If you are planning to start juicing and are looking for a quick, easy, and affordable option a centrifugal juicer is a great choice. Many in the juicing industry talk about how bad centrifugal juicers are, but the fact of the matter is that juicing with a centrifugal juicer is much better than not juicing at all.
With all that said, I would recommend reviewing my post on why I believe a masticating juicer is better than a centrifugal juicer.
Conclusion:
I hope that this post helped you understand what a centrifugal juicer is and how they work, along with some of the other important considerations that are necessary to consider when purchasing a juicer.
A centrifugal juicer is a great option for someone looking for speed, efficiency, and affordability, while not being overly concerned about maximizing every bit of nutrient and juice extraction.
Make sure to check out my post that deep dives into each type of juicer on the market. This post will help you decide what the right type of juicer is for your specific situation. It will truly make you a juicing expert.
Until next time, happy juicing!