Head back over to the 5 Different Types of Juicers Explained (Ultimate Guide)
What makes a Masticating Juicer Better than a Centrifugal Juicer?
Below are the top 6 benefits of a masticating juicer and why they are better than a centrifugal juicer:
1. How masticating juicers retain more enzymes than centrifugal juicers.
Most masticating juicers spin at a range of 40-120 RPM's (rotations per minute), therefore they are often referred to as slow juicers. Centrifugal juicers, on the other hand, spin at a range of 6,000-16,000 RPM's.
The slower spinning is believed to create less heat and therefore transfer less heat to the juice, the lower the temperature of the juice the better enzyme retention, this is how masticating juicers retain more enzymes than centrifugal juicers.
This theory is believed by many, but in my research, I was unable to prove the theory. I found multiple studies that showed little difference in juice temperature after juicing.
What is more of a concern is oxidation, which I will cover in the next section.
2. Masticating juicers create less oxidation which improves nutrient density of juice.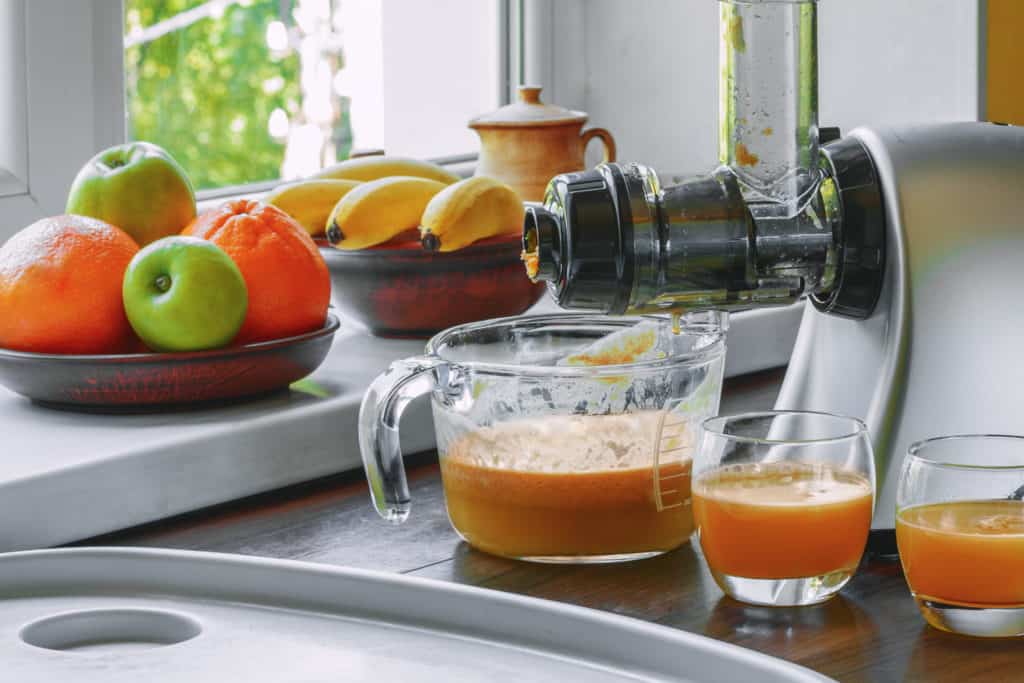 Masticating juicers introduce less oxygen into the juice while juicing than a centrifugal juicer, this leads to a more nutrient dense juice.
A study published by the KFN concluded that Broccoli juice from a masticating juicer had higher polyphenol & flavonoid levels than the juice produced by a centrifugal juicer (source). The juice from the masticating juicer also showed higher inhibitory effects against certain cancer cells and the study suggested that the juice from the masticating juicer may have positive effects on blood sugar levels.
It is important to understand that oxidation occurs in all juice after it is juiced, as juice is exposed to oxygen it oxidizes. Due to this it is best to drink juice immediately after juicing.
If you plan to store juice, read our full guide to proper juice storage.
Related: Best Masticating Juicers on the Market
3. Juice from a masticating juicer can be stored 3X longer than juice from a centrifugal juicer.
Due to the limited oxidation created by a masticating juicer, juice from this type of juicer can be stored for between 48-72 hours. Juice from a centrifugal juicer should not be stored for more than 24 hours.
The longer storage time allowed by juice from a masticating juicer can turn into a real time saver. I usually make enough juice to last 3 days with my masticating juicer, this allows me to spend much less time juicing. If you are really interested in saving time, check out the 10 best vertical masticating juicers.
If you need to juice every day to drink juice every day, you will likely miss a day here and there. If you are looking to get the most benefit by drinking juice daily a masticating juicer will make this much easier.
Related: I answer the question of are masticating juicers hard to clean, by cleaning my own juicer.
4. Masticating juicers are quieter to run than centrifugal juicers.
Some masticating juicers operate at around 60 decibels when juicing, this is equivalent to the sound of a normal conversation or a dishwasher.
Centrifugal juicers operate at up to nearly 120 decibels when juicing, this is equivalent to the sound of a concert or a jet plane taking off.
Masticating juicers are much quieter, but noise level is only one thing to consider when juicing. Also, noise level will be more important to those with someone sleeping in the house than those that live alone.
Related: Click here for a comprehensive look at masticating juicers
5. Masticating juicers produce more juice yield than Centrifugal Juicers and will save you money.
Want to save money on groceries? Buy a masticating juicer. In my research I concluded that masticating juicers produced more juice yield on most ingredients juiced. This additional amount of juice that is yielded on each glass of juice you drink can really add up.
Cost of Carrot, Orange, Kale Juice
Cost Of Juicing
Daily Cost
Annual Cost
(Assumes 1 Cup/Day)
Masticating Juicer
$3.29
$1,200
Centrifugal Juicer
$3.89
$1,419
Masticating Juicer Savings
$0.60 Savings/Day
$219 Savings/Year
This masticating juicer can nearly pay for itself in one year when comparing to a centrifugal juicer. 
I thought a masticating juicer was the best juicer for juice yield, until I tried a twin gear juicer. See the Masticating vs. Twin Gear juicer comparison here.
6. Masticating juicers are more versatile than centrifugal juicers.
Masticating juicers can juice all ingredients that a centrifugal juicer can, but they can also juice ingredients that do not work well in a centrifugal juicer.
For example, masticating juicers do a great job with leafy greens and centrifugal juicers do not.
Masticating juicers also allow for longer juice storage time.
Versatility is my main reason for choosing a masticating juicer, while a centrifugal juicer may produce more yield with some ingredients a masticating juicer will perform well with any ingredient thrown at it.
Related: Not convinced masticating is better? Check out this comprehensive look at centrifugal juicers
Conclusion:
In the end, deciding on what type of juicer to buy is the first step in purchasing a juicer.
I suggest choosing a masticating juicer due to the versatility they offer, juice storage length, and the amount of juice they yield.
The jury is still out on whether masticating juicers extract more nutrients or retain more enzymes, but I have yet to see a study that shows them doing a worse job with this than a centrifugal juicer.
For these reasons I believe you should invest in a masticating juicer with a quality track record and a long warranty. This will keep you juicing for years to come.
I hope this post was helpful in showing why a masticating juicer is better than a centrifugal juicer.
If you are unsure on what type of juicer to purchase, make sure to read my in-depth guide of the 5 different types of juicers on the market.
Until next time, Happy Juicing!