DISCLAIMER: THERE ARE AFFILIATE LINKS IN THIS POST. THIS MEANS THAT AT NO COST TO YOU, WE WILL RECEIVE A SMALL COMMISSION IF YOU PURCHASE THROUGH OUR LINK. YOU MAY READ FULL DISCLOSURE POLICY FOR MORE INFORMATION.
Omega J8006 (aka – 8006) is the best masticting juicer in today!
Wondered to such declaration, right? There are hundreds of models over there, but why Omega J8006? In fact, I was quite surprised to figure out the actual reasons.
In this Omega Juicer 8006 review, let's go figuring them out in details-
Omega J8006 Juicer is an all-in-one juicer model that comes with a wide variety of functionalities. Its efficient noise cancellation technology, low voltage operator and well-powered motor combined are a true charming juicing experience.
Features of Omega J8006 Nutrition Center
Durable Plastic Material
Omega Masticating Juicer 8006 comes with a durable plastic body. This body made of Ultem. The auger and also the juicing screen is made of this Ultem. It gives you eight times more stability than a regular juicer.
Slow Extracting Process
This juicer comes with a motor of 43 rpm which needs 150 watts of power to run. Due to this motor, it has a slow extracting process. This motor rotates at 80 rpm. This slow process ensures the quality of juices and preserves the full taste of the juice. This slow juicing process prevents the juices from being oxidized.
Variety of Juicing Functions
Omega J8006 is not only aimed at extracting juice from fruits and vegetables. It has a crush and press mechanism installed that takes it's functionalities to next level.
Watch this juicer make awesome green juice
With this mechanism, you can be able to make soymilk, churn butter out of nuts, coffee to powder, and exude pasta, mill spices and so on. In together, it can be a one stop solution to every conscious housewife.
Feeding Chute and Refrigeration Facility
The juicer from manufacturer Omega has a feeding chute of 1.5 inches. You can find this feeding chute to be small. You need to slice your fruits or veggies up into pieces and put it in the juicer. But this small feeding chute enhanced the refrigeration facility. Due to small feeding chute, it can produce denser juices. This juice can be refrigerated up to 72 hours.

Easy Cleanup and Cinch
Apart from other similar juicers; Omega J8006 has fewer machine parts that produce less waste. Altogether, it produces less waste materials than other juicers and thereby. Such structure and mechanism make it very easy to clean and rinse. Besides, all of the machine parts of J8006 are dishwasher-free.

Gear Reduction Motor
Omega J8006 comes with a gear reduction motor technology. This technology boosts up the motor speed, and it is equivalent to 2 horsepower.
The Good
The slow masticating process prevents oxidation and preserves juice quality and taste.
Strainer helps to prepare juice continuously.
Easy cleanup process.
Long time warranty from the manufacturer.
The Bad
Small feed chute.
It takes a bit more space than a regular juicer.
Best Suited For
Omega masticating juicer 8006 is ideal for processing leafy greens like kale, Celery along with soft fruits and veggies. It can bring out the real extract inside the fruits or vegetables to provide you high-quality juice.
Other Uses
Besides, processing juice from fruits and veggies it also has the capability to produce nut butter. Also, it can crush coffee beans. Omega masticating juicer is also perfect for making pasta.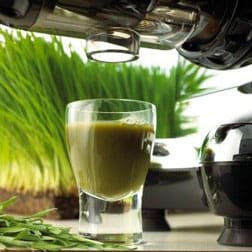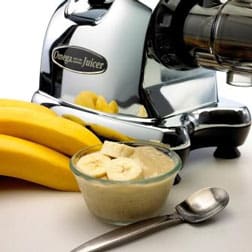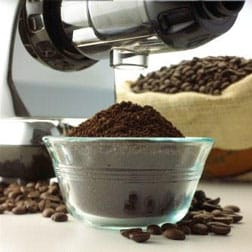 Not So Great For
Processing continuously hard fruits may not be a wise idea. This process can also harm the machine. Rather you can use alternate juicing techniques. That means, first put the hard fruits. Juice it. Then go for the softer one and continue this process. Processing almonds can be hard with this juicer.
FAQ (Frequently Asked Questions)
Q: Is Omega 8006 a cold press juicer?
A: Yes! It is a cold press juicer because it can heat up the juice same as the centrifugal juicer.
Q: Does the Omega J8006 comes with BPA-free components?
A: Yes! To preserve the quality and tastes of your juice all parts of the juicer comes with the BPA-free components.
Q: Is it a masticating juicer?
A: Yes! The mechanical property of the juicer has all the criteria of being a masticating juicer.
Final Verdict
Though juicing hard fruits and veggies may be tough with this juicer. But if follow the alternate method of juicing you can quickly juice leafy vegetables.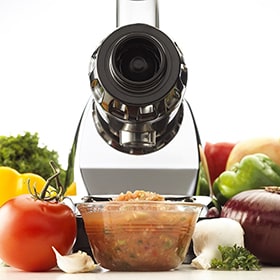 It is best for both home users.
The small feeding chute may be a problem for making a wide amount of juice. But if you want to preserve tastes then you need to sacrifice this little problem. After going through this Omega 8006 Juicer reviews, you can grab this product without any doubt. To know more details about this juice and latest price update just click here.