DISCLAIMER: THERE ARE AFFILIATE LINKS IN THIS POST. THIS MEANS THAT AT NO COST TO YOU, WE WILL RECEIVE A SMALL COMMISSION IF YOU PURCHASE THROUGH OUR LINK. YOU MAY READ FULL DISCLOSURE POLICY FOR MORE INFORMATION.
Updated 7/20/2020
Omega J8006 (aka – 8006) is my choice for the best masticting juicer today!
The Omega 8006 juicer is the model I purchased a few years back and have been very satisfied with it from the start! There are hundreds of different models of juicers, but why the Omega J8006? Below I will review why I purchased the Omega J8006 Nutrition Center and what my experience has been over the 5-years I have owned it.
In this Omega 8006 Juicer review, we will dig into the details of my experience with this juicer.
If you are in a hurry below is a quick overview along with a link to the product.
2021 Omega Juicer Black Friday/Cyber Monday Deals
Sale
Omega J8006 Juicer
This is my favorite all-around choice for a masticating juicer. This juicer produces great juice yields and comes with a 15-year warranty. It is a great investment and is an affordable option in the long run. I have owned this juicer for years and have yet to have an issue.
Last update on 2023-09-30 / Affiliate links / Images from Amazon Product Advertising API
Quick Overview of the J8006 Juicer:
The Omega J8006 Juicer is a powerful masticating juicer that does an excellent job of juicing greens, this is one of the main reasons that I purchased the 8006.
This Omega model is known as a slow masticating juicer, the "slow" process refers to how quickly the unit spins while juicing.
This is an important consideration when purchasing a juicer as the lower the RPM's or rotations per minute, the less heat is generated.
Why is this important?  Lower heat generation is correlated with a higher level of enzyme and nutrient retention and since we are juicing for nutrient extraction, the RPM of the juicer should be high on our list when choosing which model to purchase.
The fact that this juicer runs at a slow RPM of 80 and that it is versatile enough to juice greens, hard produce such as carrots and beets, and fibrous produce like celery are the two main reasons I purchased this model.
Features of Omega J8006 Nutrition Center
Durable Plastic Material
The Omega Masticating Juicer 8006 has a durable plastic body and auger. The body and auger are made of Ultem. Ultem is a plastic resin that is primarily used in medical and chemical instrumentation due to its heat, solvent, and flame resistance. Ultem is up to eight times more durable than normal plastics.
The Omega J8006 juicer does have many plastic components, but they are BPA free.
Slow Extracting Process
This juicer has a 1/3 HP motor that rotates the auger at 80 RPM's. This slow process helps retain the juice's natural enzymes and nutrients while preserving the taste of the juice. The slow masticating juicing process also reduces oxidation of the juice, the reduced oxidation creates a more nutrient dense juice that can be stored longer.
Variety of Juicing Functions
The Omega J8006 is not only aimed at extracting juice from fruits and vegetables. It has a crush and press mechanism installed that takes its functionalities to the next level.
With this mechanism, you can make soymilk, nut butters, grind coffee, extrude pasta, mill spices, and make baby food.  This machine will turn into a kitchen staple for you.
Watch this juicer make awesome green juice
Feeding Chute
The Omega J8006 Nutrition Center has a feeding chute of 1.5 inches.  If this juicer has any drawbacks, the chute size is it.  The 1.5-inch chute is quite small and will require you to chop fruits and veggies before juicing.
Juice Yield
I was impressed by the juice yield this juicer produced.  The yield the 8006 produces from greens is astounding, it also does an above average job when it comes to juice yield when juicing harder produce like carrots.
Juice Quality/Storage Time
Since this juicer is a slow masticating juicer that rotates at 80 RPM's the juice produced is very nutrient and enzyme dense with little oxidation.  In short, it produces a great quality juice.
Due to the limited oxidation, juice from the Omega J8006 can be stored in an airtight container, in the refrigerator for up to 72 hours.
Click here to see our full post on how to properly store freshly juiced juice.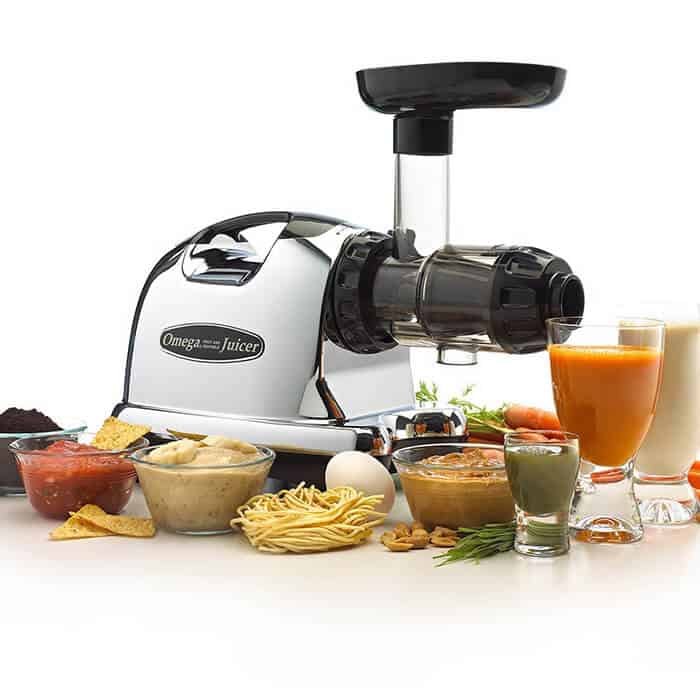 See 2021 Black Friday/Cyber Monday Deals here
Easy Cleanup
Clean-up after using the Omega J8006 is simple, parts rinse easily and are dishwasher safe.
I use an over the sink strainer to rinse vegetables before juicing, once I finish juicing, I disassemble the juicer and throw the parts into the strainer to quickly rinse and clean.
Click here to see the over the sink strainer that I use, these are a must have for juicing.
Warranty
Omega provides a stunning 15-year warranty on this juicer.
Size
Dimensions: 6.5" W × 14.5" D x 15.5" H (165mm W × 368mm D × 394mm H)
Weight: 19.4lb / 8kg
Drawbacks
I have been using the Omega J8006 juicer for around 5 years at this point, the juicer is efficient and built with high quality materials.  The only drawback of this juicer that I have noticed is the small 1.5-inch chute, the small chute requires chopping of fruits and vegetables before juicing.  The pros of this juicer outweigh the cons.
 
My Experience – 5 Year Ownership

Last, but not least, let's talk about my experience owning the J8006 Omega Juicer for 5 years.  I purchased this juicer around 2015 and have used it regularly since, it is now 2021.
I have juiced all types of produce with this juicer, from celery, to kale, to beets and everything in between.  I have noticed high yields when juicing celery and greens, and acceptable yields when juicing harder produce like carrots and beets.
When I say acceptable yields for harder produce, I should preface that by saying I have a Norwalk Juicer that I used for years prior to the Omega to juice hard vegetables.  I purchased the Omega for its ability to juice greens and now use that for hard produce as well, as it is not worth me pulling out the Norwalk for the additional yield.  The Omega does just fine on the harder produce.
As far as quality is concerned, I have had not one issue with the juicer.  No replacement parts, no warranty claims, nothing!
This juicer is referred to as a "slow" juicer, but do not let that fool you, the juicer will make a cup of juice quickly, the slow terminology only refers to the speed that the auger turns.
Due to the "slow" juicing process the Omega 8006 produces a very high-quality juice that can be stored for up to 72 hours.
My normal process is to juice 2 times/week, making enough for 3 days.  This juicer has performed well, never overheating, even when running for 30 minutes straight.
Overall, my experience with this juicer has been fantastic.  It is a great all-around model to purchase due to the high-quality build, juice quality, versatility, and middle of the road price.  I highly recommend the Omega J8006.
The Good
The slow masticating process prevents oxidation and preserves juice quality and taste.
Cleanup is simple.
Versatile; can be used for many other things besides juicing.
Long time warranty from the manufacturer.
The Bad
Best Suited For
The Omega masticating juicer 8006 is ideal for processing leafy greens like kale, Celery along with soft fruits and veggies; is also does a fine job of juicing harder produce.  If you are looking for a juicer that will quickly produce high quality juice and is simple to clean, this is the juicer for you.
Other Uses
Below is detail on some of the other uses that I mentioned above.  Besides producing juice from fruits and veggies it also can produce nut butter, crush coffee beans, and turn you into a chef by perfectly making pasta.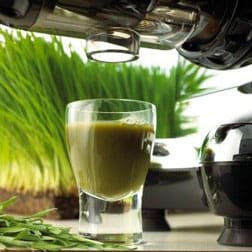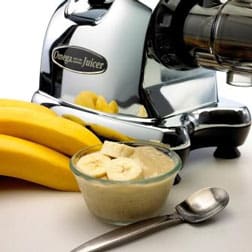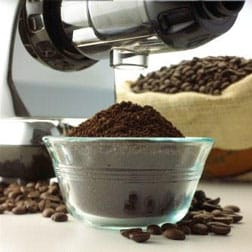 FAQ (Frequently Asked Questions)
Q: Is Omega 8006 a cold press juicer?
A: Yes! It is a cold press juicer it produces a high quality juice by crushing with a slow rotating auger.  This slow process limits heat build-up which qualifies it as a cold press juicer.
Q: Does the Omega J8006 comes with BPA-free components?
A: Yes! To preserve the quality and taste of your juice all parts of the juicer are BPA-free components.
Q: Is it a masticating juicer?
A: Yes! This is a slow masticating juicer.
Final Verdict
The Omega J8006 juicer is a great option if you are looking for a juicer that will produce high-quality juice quickly without damaging the natural enzymes of the juice. 
This juicer is very versatile and will allow you to prepare multiple days' worth of juice at one time. 
The warranty provided is fantastic, but in my experience, you will likely not need to use it.
This juicer is a little higher on pricing than some of the entry level models, but if you know you will be juicing for a while it is well worth the investment.  I cannot recommend it enough.
I hope this Omega 8006 juicer review was helpful.  If you decided to purchase please tell us why in the comments, we'd love to hear from you.