In recent times you will find many ways to feed your unquenchable thirst. Not only for gratification but it is a great way of keeping you skin well. By having a critical look at the recent market I've come here with my Omega masticating juicer reviews.

A question may arise in your mind, why I've chosen Omega Juicers?
Yes, you are in the right place to have the answer. The Omega Juicers are ruling the juicer market over years with their quality products and enlarging their facility day-by-day. I will provide you a close shot on some top Omega Juicer brands.
How Omega Juicer Works
As the juicer is easy to assemble, the working procedure is also easy. Now I will let you know about the simple working process before proceeding to the Omega masticating juicer reviews.
Whenever you insert fruits and vegetables into the feeding chute you need to slice them. Then the plunger helps to push the items down through the chute. But before putting be cautious that don't put too many ingredients at once.
The reverse function of this juicers helps you to unclog it. In the final part of working it just run back to the juice extractor for maximum extraction. Thus the Omega Masticating Juicer works.
Also Read: Best Masticating Juicer for Celery
Omega Juicer Pros
Slow juicing speed helps to preserve nutrients.
Newly upgraded Omega Juicers has Ultem Auger.
Auto pulp ejection allows continuous ejection.
Silent operating process.
Has the resistance to prevent from stains.
Comes with super dry pulp.
Dual stage processing helps to prevent wastage.
Omega Juicer Cons
This types of juicer have relatively narrow feeding chute.
The plastic body of juicers can break easily.
Juicing screen might tend to get fragile.
Now let's head towards the top juicer from the brand Omega Juicer. Just have a quick look here-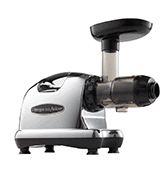 Omega J8006 Nutrition Center Juicer
This J8006 Juicer from manufacturers of Omega is on the top of my Omega Masticating Juicer reviews. This powerful masticating juicer has the ability to make juices from wheatgrass, carrots and also from other veggies. This model of Omega Juicer has a dual stage filtration make it one of the best juicer in the market.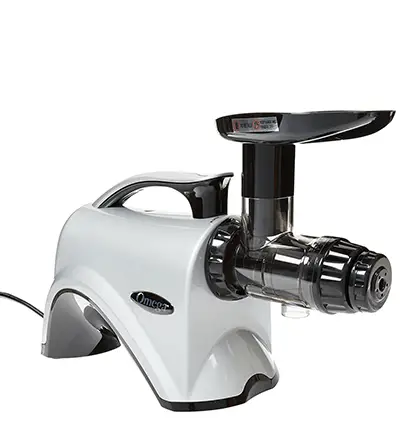 Omega NC800 Juicer
This model of Omega juicers is very efficient for grinding and crushing almost every type of fruits and vegetables.Though it has only 80 rpm but this slow processing allows you to get high nutritious juice. For the maximum juice output, you will get automatic pulp ejection. The easy cleaning process also makes it more beneficial for the users.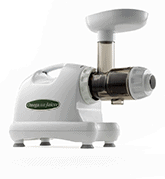 Omega J8004 Juicer Nutrition Center
Now I will let you know about another commercial grade juicer, Omega J8004 Juicer. It comes with 2 HP high motor. The Ultem materials ensure the top quality lasting capacity. The best features of this model are, you can run this juicer for up to 45 to 60 minutes. It is also great for processing different foods.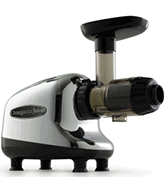 Omega J8005 Nutrition Center
Omega J8005 Juicer has a unique feature of variable juicing speed. This low speed helps to preserve nutrients and antioxidants. It is a single gear juicer with 1/3 horsepower. It has the ability to crush almond butter along with fruits and vegetable juices. The product is designed in such a way that less heat will build up inside to keep the juicer safe.3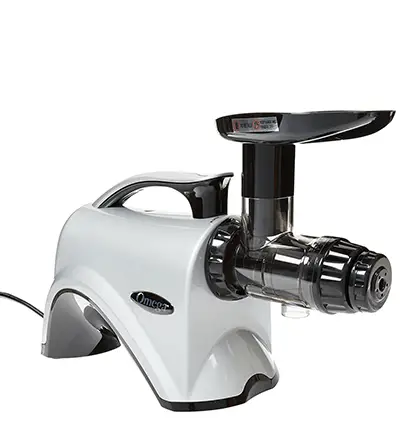 Omega NC900 HDC Nutrition Center
This horizontal masticating juicer can produce both soft and hard fruits and leafy greens. The plastic made body is BPA-free. You will find five pressure settings category. With these settings, you can boost and effective process juice by the extraction process. Along with fruits and veggies, it can also make minces and pasta.
FAQ (Frequently Asked Questions)
Q: Is Omega Juicers are a centrifugal juicer?
A: No, these juicers are not centrifugal juicers. Rather it is masticating juicer with a low speed.
Q: Is the juicer is good for toddler gag?
A: Yes, the pulp that comes with the juicers is good for toddler gag. But a bit of pulp is preferable.
Q: Is it possible to produce peanut and coconut milk?
A: Yes, you can process peanuts into juices easily. Same words also go for coconut milk too.
The Verdict
Finally, going through all these Omega Juicer reviews you can be a bit confused, which one should I buy? Considering all the facts and analyzing the market I would personally suggest you go for Omega Juicer J8006.
The silent operation is suitable for processing juice anywhere you want and effective juicing features makes it one of the best in the market.