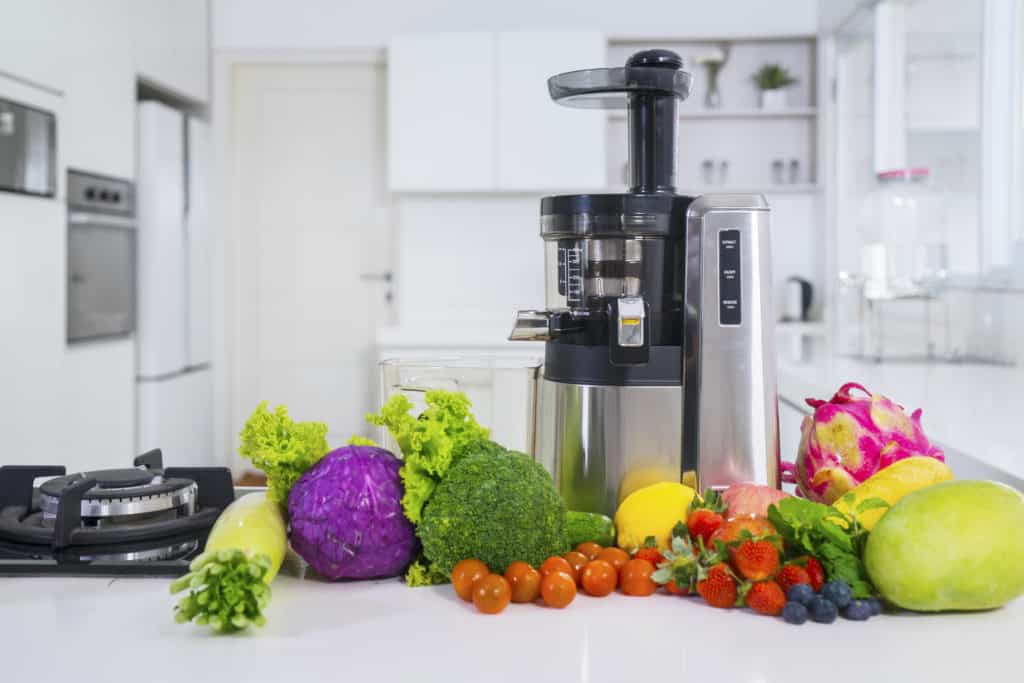 In this vertical juicer review, I compare the top vertical juicers on the market and recommend the best option for 10 different scenarios.
What is the best vertical juicer in 2023?
Best Vertical Juicer - Kuvings C7000
The Kuvings C7000's 3-inch chute allows for quick juicing with limited prep, combine that with 72 hour juice storage, a 10-year warranty, and the ability to make many different things and you have yourself the best vertical juicer on the market.
Last update on 2023-09-30 / Affiliate links / Images from Amazon Product Advertising API
The best vertical masticating juicer on the market is the Kuvings C7000. I chose this as the best option for these 4 reasons:
Versatility – The Kuvings C7000 makes much more than just juice
Quality – Kuvings 40-year track-record paired with a 10-year warranty
Limited prep time – Wide Mouth 3-inch chute limits chopping
Juice Storage – Slow masticating technology allows for 72-hour storage
---
What is the most affordable vertical juicer in 2023?
Last update on 2023-09-30 / Affiliate links / Images from Amazon Product Advertising API
The most affordable vertical masticating juicer on the market is the Aobosi Slow Masticating Vertical Juicer. This vertical juicer can be had for an extremely reasonable price and is also the most compact vertical juicer we reviewed if you are looking to save money and space this is the juicer for you.
---
Related: Best masticating juicers on the market today
Related: 8 Best Centrifugal Juicers available today
---
List of the 10 Best Vertical Masticating Juicers:
Click the scenario that best describes your needs to jump to the best vertical masticating juicer for you.
Related: Vertical Masticating vs Horizontal Masticating Juicers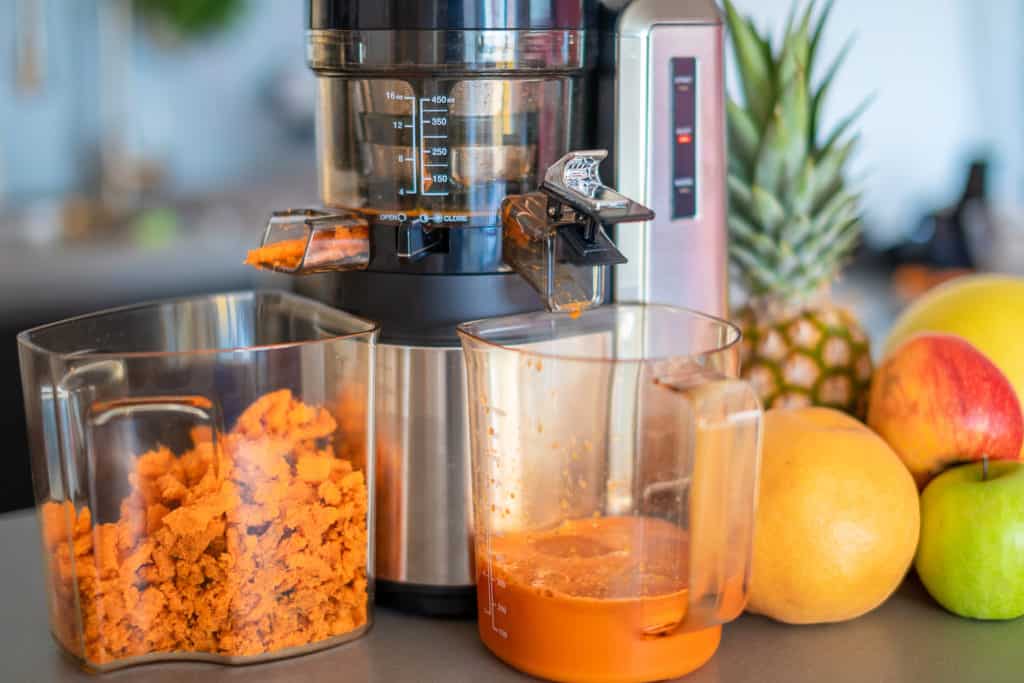 The 10 Best Vertical Masticating Juicers:
1. Best Overall – Kuvings C7000 Whole Slow Juicer Elite
Tired of chopping fruits and veggies into bite sized pieces before juicing? If so, the Kuvings Whole Slow Juicer Elite may be for you.
A 3" wide chute allows you to juice large ingredients without chopping. For comparison, a medium size apple comes in around 3 inches, just drop and juice!
Kuvings' low-speed masticating technology gently squeezes nutrients, while preventing oxidation, producing a juice that is shelf-stable for up to 72-hours! The Kuvings C7000 is the best vertical masticating juicer for leafy greens and celery.
Rarely do you see a vertical juicer as versatile as this juicer. The 3 in 1 juicer makes juice, sorbets, smoothies, and can even prepare baby food and nut milk, these are uncommon features in vertical juicer.
With Kuvings 40-year quality track-record and a 10-year long warranty you will not be disappointed with your investment.
Click here to see the Kuvings C7000 on Amazon
---
2. Runner Up Best Overall – Tribest SW-2000 Slowstar
Tribest has made another high-quality juicer, this time in a vertical masticating style.
A 200-watt motor paired with 3-stage speed reduction gears turn the single auger at a slow 47 RPM's.
The powerful motor and duo-blade auger will cut and crush even the hardest produce, think carrots and beets, extracting every bit of nutrients. This is the best vertical masticating juicer for carrots.
A rotating single auger presses the juice through the juicing screen at slow speed to limit the amount of oxidation, retaining many of the juice's natural enzymes.
A leak cap at the end of the juice port stops the annoying drips of juice when you are switching from one container to the next.
An added mincing attachment turns this vertical masticating juicer into a versatile multi-purpose tool, allowing you to make sorbets, sauces, and more.
Combine the facts that this juicer is exceptionally quiet, is made of BPA-free components, and has a 10-year warranty add to the reasons you should pick this juicer up.  
Click here to see the Tribest Slowstar on Amazon
---
3. Best Budget Vertical Juicer – Aobosi Slow Masticating Juicer
Looking for an affordable vertical masticating juicer? Aobosi may have you covered with their vertical slow masticating juice extractor.
With this budget option you will not get the proven track-record of a known brand name, or a decade long warranty, but if you are just starting out or are on a tight budget check this out.
Space savings is taken to another level with this vertical juicer, coming in at only 6.4" X 8.5" by 16.3" it is one of the smallest foot prints you can find when buying a juicer.
Easy assembly and cleaning eliminate the hassle of making fresh juice every day.
Click here to see the Aobosi Vertical Juice Extractor on Amazon
A slow turning auger turns between 40-65 RPM's which is well within the slow or cold press juicing range. This slow speed will limit oxidation and help retain natural enzymes.
---
4. Easiest to Use – Hurom H-AI
Hurom has taken their Alpha technology to the next level with the Hurom H-AI.
A self-feeding hopper takes this high-end vertical juicer over the top.
If you are looking to simplify the juicing process the self-feeding hopper that chops and pushes ingredients into the juicing chamber is what you have been looking for.
A 200W motor spins the single auger at 60 RPM's, while a touch faster than some other Hurom juicers, it is still well within range of a cold-press juicer.
Slow-squeeze technology creates an ideal environment for nutrient extraction and enzyme retention. Juice can be stored up to 72-hours after juicing.
The simplicity that this juicer provides by self-feeding and chopping, along with the ability to make enough juice to last for 3 days at a time may outweigh the higher price of this juicer.
You must at least take a look at this futuristic vertical juicer!
Click here to see the Hurom H-AI on Amazon
---
5. Easiest to Clean – Hurom H-AA
Hurom's H-AA is found in Hurom's Alpha Series line of juicers, juicers in this line are equipped with Hurom's Alpha technology making these juicers easier to clean and more versatile.
The 500ml capacity chamber allows you to make 16 ounces of juice before dumping into a storage container, this is great if you are making a batch of juice to be stored.
Speaking of juice storage, safely stored juice from this juicer can be stored for up to 72-hours.
Accessories include a pulp control lever and 2 strainers allowing you to adjust the amount of pulp in your juice. Also included are a drying rack and tofu press.
I almost left out the most important part, this juicer makes ice cream, yes, you heard correct, ice cream. When you have had your fill of juice and want something sweet this juicer will deliver.
This great mid-tier vertical juicer comes in a variety of colors. Check out the Rose Gold one.
Click here to see the Hurom H-AA on Amazon
---
6. Best for Families – Hurom HH Elite
The Hurom HH Elite is a vertical juicer found in Hurom's 2nd generation of juicers.
A 500ml capacity chamber allows you to make juice for you and others, this is a great choice for families.
The Hurom HH Elite comes in at a higher price point than Hurom HP, this price point is offset by the additional accessories and increased capacity.
Added pulp control and coarse strainer allow you to control how much or how little pulp makes it to your juice.
A winner of multiple design awards, including the Red Dot and Idea awards.
The slow 43 RPM speed of this single auger vertical juicer limits oxidation, allowing juice to be stored for up to 72-hours.
The Hurom HH Elite is a great starter model for a family looking to start or continue juicing.
Click here to see the Hurom HH Elite on Amazon
Related: Twin Gear vs Masticating Juicers (Find out the winner)
---
7. Widest Chute Opening – Kuvings EVO820 Whole Slow Juicer
The Kuvings EVO model is a step up from the C7000 Elite model.
Kuvings added a larger chute to the EVO model, coming it at 3.2 inches, just slightly larger than the 3-inch chute on the C7000.
Parts are upgraded to more heavy-duty, durable materials to help with overall quality and durability.
An added smoothie strainer, and pulp strainer make the EVO820 a more versatile option.
The 240W brushless motor crushes produce at a slow but powerful 60 RPM's, this slow process allows maximum nutrient extraction with minimal oxidation.
A 10-year warranty and an included recipe book round out the reasons that make the EVO a great wide-mouth, low-speed vertical masticating juicer.
Click here to see the Kuvings EVO820 on Amazon
---
8. Best Vertical Commercial Juicer – Kuvings CS600 Whole Slow Juicer Chef
If you are looking for a commercial-grade vertical juicer, or juice a ton at home and are looking for a juicer that can keep up with what you throw at it, check out the Kuvings CS600 Commercial Juicer.
The 200W high torque brushless motor effortlessly masticates even the hardest of vegetables. This powerful motor is made to operate for up to 24 hours, which makes it great for a juice bar, and maybe a bit of overkill for the home, but if you juice as much as me it may be just right.
Want to juice a full lemon, or apple, the 3.5-inch chute opening makes either of these a breeze, just drop in and seconds later you have juice.
One thing to note is that this juicer is about 20% larger than the home use juicers from Kuvings.
Quality meets power and durability in this commercial grade vertical masticating juicer, pair that with a 10-year warranty and the up-front cost is a bit more palatable.
Click here to see the Kuvings CS600 on Amazon
---
9. Best Warranty – OmegaVRT350
Omega is most popular for their horizontal masticating juicers, now they have created a space saving vertical masticating juicer to save you some counter space.
This Omega Vertical Masticating juicer has a dual stage juicing process that crushes produce and sends the pulp through secondary squeeze before ejecting, this design allows this vertical masticating juicer to extract more juice than some other models.
In a jam? Don't worry, the added reverse function of this juicer allows you to easily unclog any jams that may occur.
A slowly turning single auger masticates produce to create a highly nutritious juice with limited oxidation. This limited oxidation allows for up to 72-hours of safe juice storage.
This affordable vertical juicer is a steal once you factor in the increased juice yield and the industry leading 15-year warranty. You can't go wrong with this Omega Slow Vertical Masticating juicer.
Click here to see the Omega VRT350 on Amazon
---
10. Best for Beginners – Hurom HP
Hurom's HP is a vertical masticating juicer within Hurom's 2nd generation model line.
Coming in at a great price for a Hurom juicer the 350ml capacity juicer creates a fresh 12 ounces of juice quickly.
Accessories are limited but if you are looking for a high-quality entry level vertical juicer this is a great pick.
You will be a able to find a stylish option to match your kitchen with the handful of color options available; I'm a fan of the Hurom HP in Mint.
A huge benefit of Hurom Juicers is that juice can be stored for up the 72-hours.
Click here to see the Hurom HP on Amazon
---
The top 5 reasons to pick a vertical masticating juicer:
The smaller footprint takes up less counter space
Juice yield is higher with a vertical masticating juicer
Great for juicing soft fruits like berries
Self-feeding function makes the juicing process easier
Wide chute options limit the amount of prep time
Conclusion:
This Vertical Juicer comparison reviewed the best single auger vertical masticating juicers on the market.
If you are looking for a juicer that will quickly make a glass of juice without sacrificing nutrients or the quality of juice, look no further than a vertical masticating juicer.
Vertical masticating juicers also allow for space savings if you have limited counter space.
While vertical juicers can give up some versatility when compared to horizontal masticating juicers, they are still a great option. Here is our full comparison between vertical and horizontal juicers if you are still undecided.
I hope this review of the best vertical masticating juicers was helpful in you search for the perfect juicer. If you are not sure that a vertical masticating juicer is right for you, hop over to my ultimate guide that covers the 5 types of juicers to find the right fit for you.
Happy Juicing!