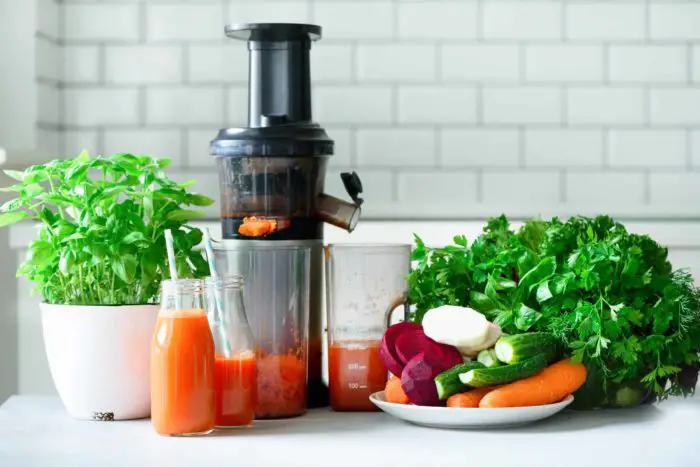 Hop back to the Ultimate Guide explaining the different Types of Juicers
Vertical or Horizontal Masticating Juicer; which is better?
A horizontal masticating juicer is better due to its versatility. The horizontally rotating auger performs better with a wider array of fruits and vegetables, in addition, these juicers can make baby food, pasta, nut milks, nut butters, frozen desserts, and salsas.
For these reasons, I suggest purchasing a juicer like this Omega Juicer.
---
What is the difference between vertical masticating and horizontal masticating juicers?
The main differences between vertical and horizontal masticating juicers are the space that they take up on your counter, the type of produce the work best for, and the overall versatility. Vertical masticating juicers are taller with a smaller footprint, in comparison, horizontal juicers are shorter with a larger footprint. Horizontal juicers offer more versatility by performing better with a wider variety of produce and making more than just juice.
---
Related: 10 Best Vertical Masticating Juicers Available Today
What are the benefits of Vertical Masticating Juicers?
Vertical masticating juicers have 3 main benefits over horizontal masticating juicers.
Save counter space as they have a smaller footprint
Larger chute openings: some have chute openings large enough to fit a full apple, this will save you time prepping produce.
Yield slightly more juice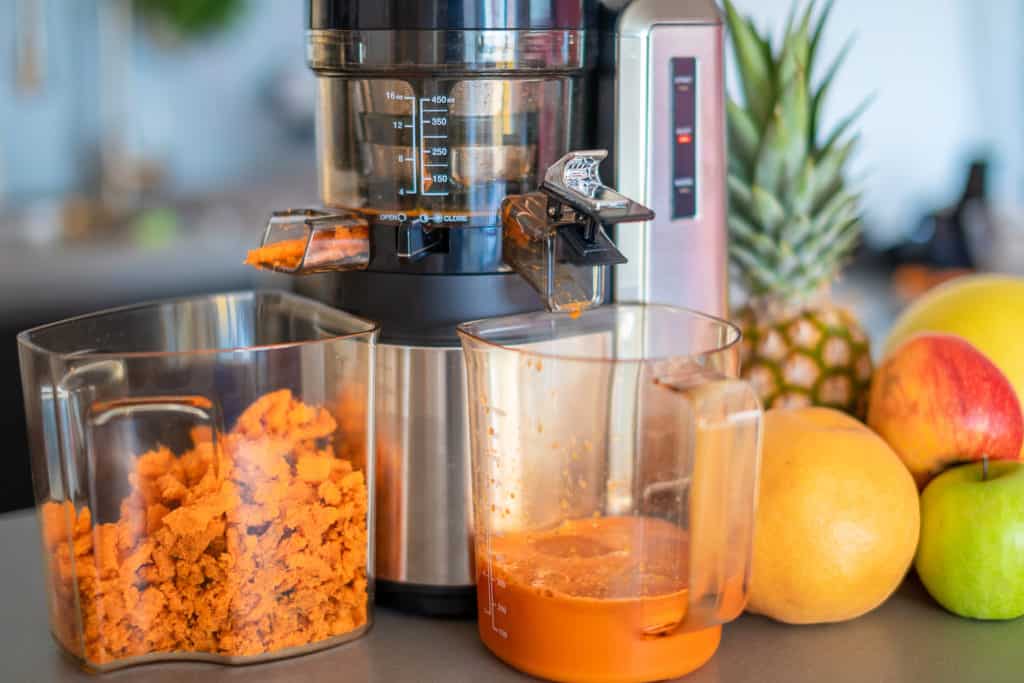 ---
How do vertical masticating juicers work?
Fruits and vegetables are fed from the top of the unit
The produce self-feeds into the unit
Produce is chopped into small pieces on the way in
An auger slowly crushes the produce and presses against a large screen
Pulp is ejected from a pulp ejection port
Juice is ejected from the juice port
---
When you should choose a Vertical Masticating Juicer:
If you have limited counter space, will only be making juice with your juicer, and like the idea of saving time by not chopping produce then a Vertical Masticating Juicer is right for you. This model has a wide chute and a small footprint.
These juicers also have more of a design element, if you are concerned with the design of your kitchen these tend to look better. If this describes you, check out this juicer that has won multiple design awards. Or this Rose Gold juicer!
---
When you should choose a Horizontal Masticating Juicer:
If you will be primarily juicing wheatgrass, leafy greens, or hard produce like carrots and beets I suggest using a horizontal masticating juicer like this one that I have used for over 5 years.
If you plan on making more than just juice with your juicer, I suggest this versatile horizontal masticating juicer, it can make pasta, baby food, nut butters, and even grind your coffee.
Horizontal juicers are also offered in a wider price range than vertical juicers, check out these truly affordable juicers.
---
Related: What is a masticating juicer and how do they work?
Where Vertical Masticating Juicers Shine:
When juicing soft produce, like berries
Space saving design takes up less counter space
Producing juice yield, some produce around 10% more juice than horizontal
Produce prep time can be shorter if you purchase a wide mouth version like this
Self-feeding nature creates less need to constantly push produce into juicer, check out this Hurom AI with self-feeding hopper
---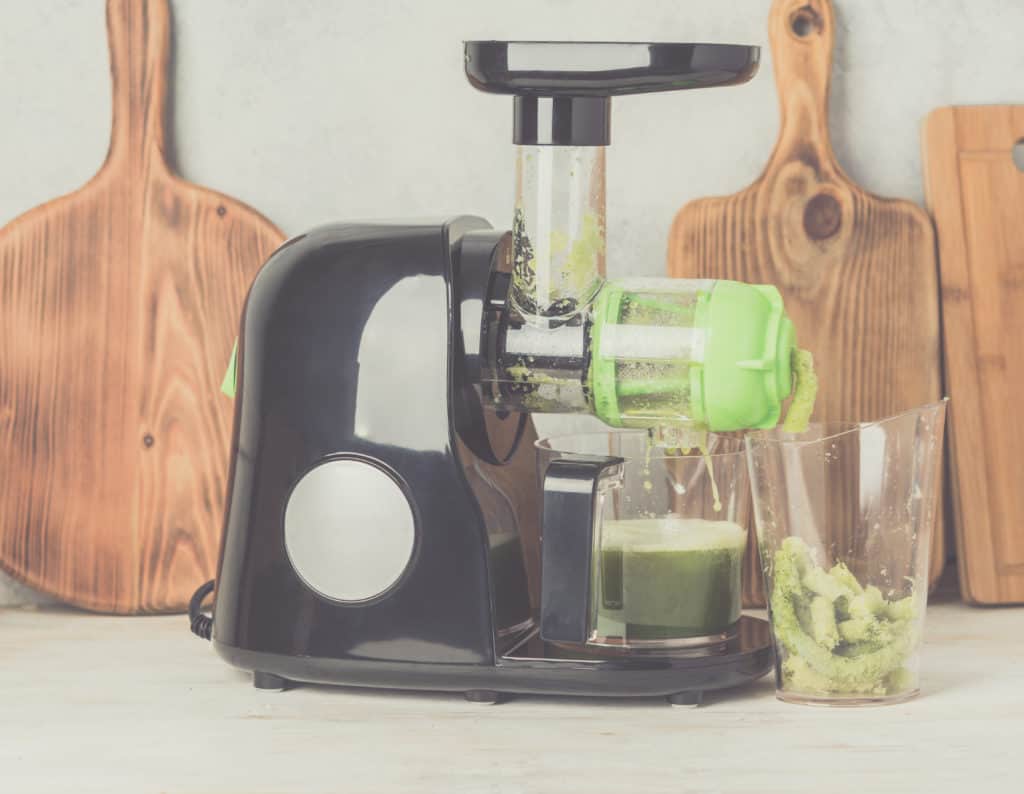 Where Horizontal Masticating Juicers Shine:
When juicing hard produce like carrots and beets
When juicing leafy greens like kale and wheatgrass
Assembly and clean-up tend to be faster
Produce juice faster
Offered in a wider price range allowing more budget friendly juicers
Can make nut butters, baby food, grind coffee, etc. They are more versatile
---
Conclusion:
At the end of the day you cannot go wrong with a masticating juicer, whether you choose a vertical or horizontal juicer.
Vertical juicers offer some time savings on the front end, if you purchase one with a wide chute, however, they tend to take longer to clean, assemble, and make juice. Therefore, total time investment is similar with either type of juicer. Click here to see my comparison tables of how long it takes to make juice with each type of juicer.
Horizontal masticating juicers offer more versatility, more budget friendly option, and perform better when juicing leafy greens and dense vegetables.
A vertical masticating juicer is great if you are short on space, concerned with juice yield, or will only be making juice with your juicer.
My recommendation is to purchase a juicer, regardless of the type, but if choosing between a vertical and a horizontal masticating juicer, I suggest the horizontal masticating juicer due to its versatility. You may be using this juicer for a decade or more, so this more versatile option will suit your changing needs over time.
I hope this comparison of Vertical and Horizontal Masticating Juicers was helpful in showing the differences between the two.  
Leave a comment below, I'd love to hear what type of juicer you decided on.
If you are unsure what type of juicer is best for you, hop over to my in-depth guide that covers all types of juicers along with what each is best for.
Until next time, happy juicing!