Updated 9/10/2023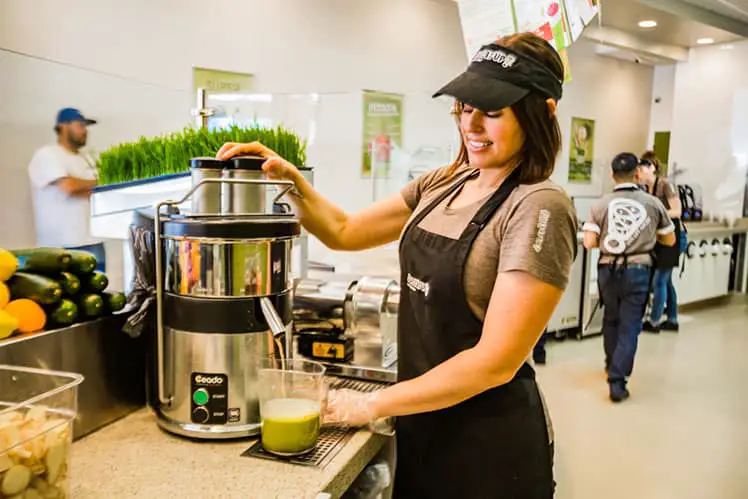 Choosing the best commercial juicer for your needs can be a difficult decision.
There are many things to consider, including:
Yield – If you are using a juicer in a commercial setting yield will be of great importance to reduce food waste.
Warranty – Using a juicer day in and day out will cause obvious strain on a juicer, consider paying more for a juicer with a better warranty.
Speed – The speed of your juicer will determine how quickly you can serve customers, faster doesn't always result in better juice quality.
Type – Type is important to consider, some types retain nutrients better and some juice faster.
Ease of Use – Ease of use may be one of the most important factors to consider.
Size – Depending on the space you have available size may or may not play a big part in your decision making.
The best commercial juicer is the Hamilton Beach Otto. This juicer will keep up with you juice bar traffic by juicing 2 liters of apples in one minute! The brush-less induction motor with dual cooling fans will keep you running at full speed all day long. Lastly the large feed chute allows juicing of full sized fruits and vegetables; a must have for a busy juice bar.
See quick reference table below for the Best Commercial Juicers.
Our Picks
Model
Hamilton Beach Commercial Otto The...
Tribest Greenstar GS-P502-B Pro...
Kuvings CS600 Whole Slow Juicer...
Our Picks
Model
Hamilton Beach Commercial Otto The...
Our Picks
Model
Tribest Greenstar GS-P502-B Pro...
Our Picks
Model
Kuvings CS600 Whole Slow Juicer...
Last update on 2023-09-30 / Affiliate links / Images from Amazon Product Advertising API
See my 2021 Black Friday/Cyber Monday Deals here
My Picks for The Best Rated Commercial Cold Press Juicers
Are you looking for the best professional grade juicer that you can find? Then you'll need to know what's available. There are so many options out there that it can sometimes feel a little overwhelming!
Here are what I consider to be the five best commercial juicers on the market. Read my reviews, and decide which juicer suits your needs best.
Also Read: 14 Best Juicers for Celery Juice (Buying Guide and Reviews)
1. Hamilton Beach Otto: Best Commercial Juicer for busy Juice Bars

If you have a busy juice bar, this is the model for you. This juicer quickly and efficiently juices and can run for hours on end without a break.
Yield – While juice yield varies by fruit or vegetable, this juicer has shown the ability to juice apples at a rate of approximately 2 liters per minute.
Warranty – The Hamilton Beach Otto has a 2 year warranty.
Speed – The juicer runs at a high speed, but the brushless induction motor with dual cooling fans allows the Otto to handle back to back use throughout the day.
Type – The Hamilton Beach Otto is a Centrifugal juicer. Centrifugal juicers are known for their speed, but lack some of the nutritional retention that slow masticating juicers are known for.
Ease of Use – This Commercial Centrifugal Juicer really shines when it comes to ease of use. The large chute allows for juicing of full fruits and vegetables. The large opening means that you will be able to juice full apples, lemons, oranges, carrots, beets, etc. No chopping = less time.
Size – The Hamilton Beach Otto Commercial Juicer is on the larger size. The dimensions are 25.1in deep X 20.7in tall X 12.7in wide. If there is one downside to this juicer it is the size/weight (75.6lbs), however, if you are going to set it in one spot and leave it I wouldn't worry too much.
Overall, I consider the Hamilton Beach Otto to be the top commercial grade centrifugal juicer on the market. If you are looking for a reliable appliance that can be used consistently, this is the one for you.
Click Here to See the Hamilton Beach Otto on Amazon
---
2. Tribest GS-P502 Greenstar Pro: Best Commercial Cold Press Juicer

I recommend this appliance to anybody looking for the best commercial cold press juicer available. It's a slow juicer, which means that it produced high yields packed with nutrition.
With the gears turning at just 110 RPMs, the Greenstar Pro stands apart from the competition. When it comes to this juicer, slow and steady definitely wins out over speed.
The device is made from stainless steel, so it's hugely durable as well as being great-looking. It measures 18.25 x 12.5″ x 6.88 inches and weighs in at 26 pounds, making it ideal for a kitchen worktop.
Once installed, the juicer has a duty cycle of 30 minutes at a time. As this is a cold press juicer, there is no oxygen in the yield. That means that the results are ready to drink, and packed with goodness!
Arguably the biggest selling point of this device is the yield. I found that this appliance produces more juice than any other that I used, especially with root vegetables. If you're keen to offer your family carrot and beet-focused juices, this is the model for you! It's a little weaker on wheatgrass, though. You'll have to mix such ingredients with harder ingredients.
This juicer enjoys all the necessary certification for home or business use. It also features a number of safety features. If the appliance is not completely and correctly assembled, it simply will not work.
It's easy to assemble, though. This also makes it simple to disassemble – and to clean. I washed the juicing parts in my dishwasher and experienced no drop in performance.
If you're still on the fence about this juicer, consider the warranty. This appliance is guaranteed for a whopping 15 years when used in the home. This drops to 3 years in the commercial setting, but that's still hugely impressive. Overall, I cannot find a bad word to say about this juicer!
Click Here to See the Grenstar Pro on Amazon
---
3. Kuvings CS600 Chef Juicer: Space Saving Commercial Juicer

The quest for the best commercial cold pressed juicer is a long and arduous one. After plenty of consideration, I consider this Kuvings model to be the best overall. Not only that, but it's also a trailblazer. This was the first ever commercial-standard slow juicer.
Arguably the biggest selling point of this juicer is the endurance of the motor. This juicer can be used for up to 24 hours without a break. Considering that most juicers can only work for 30 minutes, that's very impressive!
This appliance is not NSF-certified, so it may not be usable in all juice bars, restaurants or other professional settings. However, it's hugely impactful in the home. Standing at 10.5 x 7.5 x 20 inches and weighing 20 pounds, a large kitchen can easily accommodate this appliance.
This juicer has a wide chute, measuring 3.5 inches. Such a substantial opening means that you will not be restricted to just oranges, lemons and limes. Larger fruits and vegetables fit inside this juicer, and the ingredients retain all nutrition thanks to the slow mastication process. Baby food and sorbets are also available through this appliance.
The juicer runs at a low speed, but the motor is very quiet. There's no need to worry about waking up your family on a lazy Sunday morning! Cleaning this juicer is a breeze, too. The appliance comes with a rotating brush that makes the process very simple.
If there is a downside to this appliance it's the short warranty. This juicer is only guaranteed for one year. Overall, though, I genuinely consider this to be the top commercial grade juicer on the market. If you are looking for a reliable appliance that can be used consistently, there's nothing better.
Click Here to See the Kuvings CS600 on Amazon
---
4. Hamilton Beach 932: Best Commercial Citrus Juicer

If you're seeking a simple and effective citrus juicer, it's really hard to look past this Hamilton Beach appliance. It's very unique to look at, with a vertical design that stands at a little under 20 inches. It weighs less than 10 pounds though, so it's very easy to move around. This makes this juicer perfect for a busy kitchen, where at home or within a business.
This juicer can extract the contents of any citrus fruit in one movement. This could be common ingredients, such as lemons, limes or oranges. If you are feeling more adventurous, however, this juicer can just as easily handle grapefruit and other large ingredients.
Simply place your fruit inside the juicer, and pull the handle. This releases up to 2,000 pounds of force in one pull. I'm no bodybuilder, and I found it hugely easy to use! It's also very satisfying to see whole fruits become delicious juices before your very eyes. As there is no motor, it's also literally silent while in use.
This isn't necessarily the appliance for you if you enjoy pulp in your juice. One of the selling points of this device is the absence of much residue. It's also not much use if you do not wish to work manually.
This juicer needs to be operated with one fruit at a time. However, that's perfect for a home kitchen. You can choose exactly how much juice you want at any given time. This eradicates the risk of waste, and minimises the need to clean.
Cleaning is very simple with the device, however. Simply unscrew the components, and rinse them off. There are no electrical elements to worry about either, making this juicer very safe in the kitchen. The warranty is for one year, but the no-frills approach means that there's little that could go wrong.
Overall, I consider this to be the best commercial citrus juicer available. It's the perfect addition to any home if your family enjoys nutritious, delicious juice on a summer morning.
Click Here to See the Hamilton Beach 932 on Amazon
---
5. VEVOR 120W Juicer: Best Commercial Orange Juicer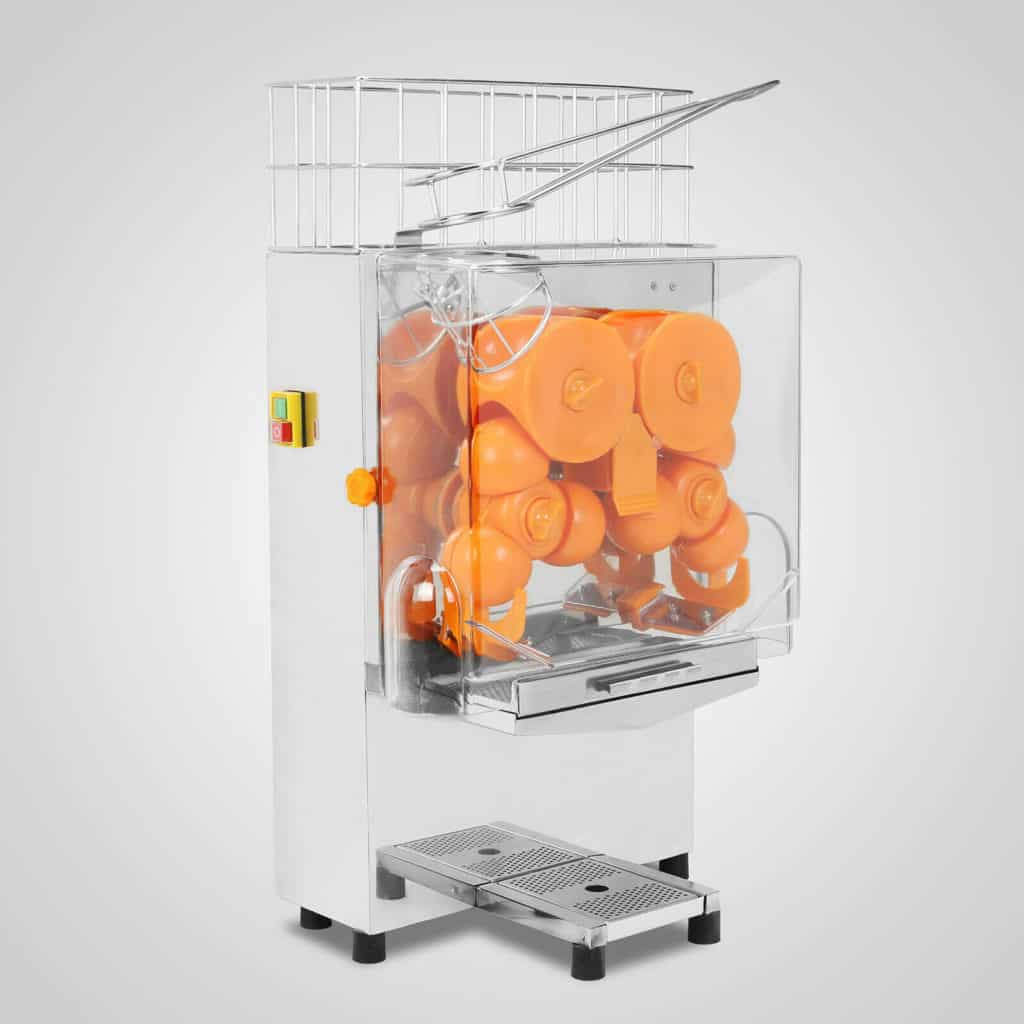 Juicers serve many purposes. If you choose the right model, you'll have all kinds of opportunities open to you. In my opinion, however, you simply cannot beat a glass of freshly squeezed orange juice. If you agree, this model from Vevor is a must-have. It's the best commercial orange juicer that money can buy.
Available in BPA-free plastic or stainless steel, this juicer is undeniably bulky. It stands at 20 x 34 x 20 inches and weighs 95 pounds. However, with this size comes a great yield and performance. This juicer can squeeze as many as 30 oranges in a single minute. That makes it perfect for catering parties, or any occasion that requires plenty of juice!
The good news is that the high quantity of juice provided does not sacrifice quality. I was amazed at how delicious every sip of OJ I took from this juicer was! The appliance peels the skin of the oranges for you, releasing sweet and fresh juice at a rate of knots.
To use the juicer, just fill the wire basket at the top of the appliance with fruit. Your oranges – or lemons, limes or other citrus fruits – will then be automatically fed through. This saves you needing to constantly refill the juicer. It's also very easy to clean. This is backed up by the juicer's NSF certification.
Of course, such a large and heavy juicer may prompt safety concerns. Thankfully, the appliance is as safe as it is high performing. The motor will not start if the juicer is not assembled correctly. There is also an external button for immediate shutdown. In the unlikely event that you have a problem with this juicer, Vevor's customer service is excellent. The appliance is also bundled with spare parts.
It's hard to look past this model as the best commercial juicer for a juice bar, but it's still a fantastic addition to any home. It's a marvel of labour-saving technology, and the results are delicious. This appliance produces up to seven glass of fresh orange juice in just a minute. You cannot argue with those numbers!
Purchase on Amazon
---
Commercial Juicers vs. Household Juicers
Commercial juicers, as the name suggests, are designed for business use. They will usually be larger, and more powerful, than a household equivalent.
As a consequence, the biggest challenge connected to commercial juicers is often their size. These devices are often much bigger and bulkier than a household juicer. Before you invest in a commercial juicer, ensure that it fits in your kitchen.
Commercial juicers are not only for professional use in the catering industry, though. A busy family home may find a commercial juicer very useful. Purchasing one of these appliances means that you can juice easily and often. If you don't want to stop and clean your juicer too often, consider a commercial model.
Commercial juicers are not always as innovative as household juicers, however. Even the most reputable commercial models may lack certain bells and whistles. Overall, however, their performance should trump a household equivalent.
Commercial juicers are designed with function in mind. They will be equipped with powerful, reliable motors that guarantee peak performance. A commercial juicer may not be the prettiest appliance on the shelf, but it will yield results.
Things to Consider Before Buying a Commercial Juicer
As commercial juicers are more powerful than household juicers, they're often more expensive. While they're a worthwhile investment, you'll have to factor certain things into consideration. The four most important elements are:
Certification
Build and Safety Features
Warranty
Motor Performance
Let's take a look at each of these in turn.
Certification
If you are shopping for a commercial juicer, look out for certification. There are three primary forms of safety certification. ETL and NSF certification are very important in the USA. CE certification is the equivalent for European juicers.
ETL certification is a safety procedure for electrical appliances. If a product has ETL certification, it meets minimum safety standards. CE certification is the European equivalent of this certificate.
If an appliance lacks ETL or CE certification, especially a commercial juicer, do not purchase it. There is no way to be sure that the wiring is safe. This could also impact upon any insurance you hold.
NSF certification comes from the National Sanitation Foundation. Not all products are NSF-certified, as it is not compulsory. Some commercial premises' will insist on a business using a NSF-approved juicer, though. If a manufacturer chooses to receive this certification, they are very confident in their product. If a juicer is good enough for NSF, you can take assurance in the quality of the appliance.
Build and Safety Features
Commercial juicers are large, powerful appliances. If you live with young children or pets, dangerous accidents are a possibility. This makes it important that your juicer comes with safety features.
An example could be a lock on the juicer, preventing little fingers from accessing the blades. Some juicers cannot be started without a very particular sequence of actions.
It is always worth making safety a priority with a commercial juicer. Even if safety protocol means that your juicer takes longer to start, you'll be grateful for the precaution.
Warranty
Commercial juicers are usually more expensive than typical household appliances. You'll also be using them more often. This makes it advisable that you seek a lengthy warranty on your investment.
A warranty does not always mean that a juicer will last this long. Juicers, like any electrical appliance, can break down. The more you use your juicer, the more likely this is.
However, a lengthy warranty will provide peace of mind while you put your appliance through its paces. While your juicer is under warranty, you will not need to invest in a replacement if the worst happens.
Motor Performance
Finally, you should always make sure that your commercial juicer has a high-performing motor. Having the appropriate power will enable you to produce juice quickly, without losing any nutritional value.
Conclusion
A good motor will also be able to juice continually, without a break. There are few things more frustrating than an appliance that needs to rest every two minutes, after all! A commercial juicer isn't an investment to take lightly, but it can be a great addition to any home. Find which model from my recommendations suits your needs best, and reap the rewards. Your family will soon be sipping professional-quality juice, from the comfort of your own kitchen. Happy juicing!
DISCLAIMER: THERE ARE AFFILIATE LINKS IN THIS POST. THIS MEANS THAT AT NO COST TO YOU, WE WILL RECEIVE A SMALL COMMISSION IF YOU PURCHASE THROUGH OUR LINK. YOU MAY READ FULL DISCLOSURE POLICY FOR MORE INFORMATION.