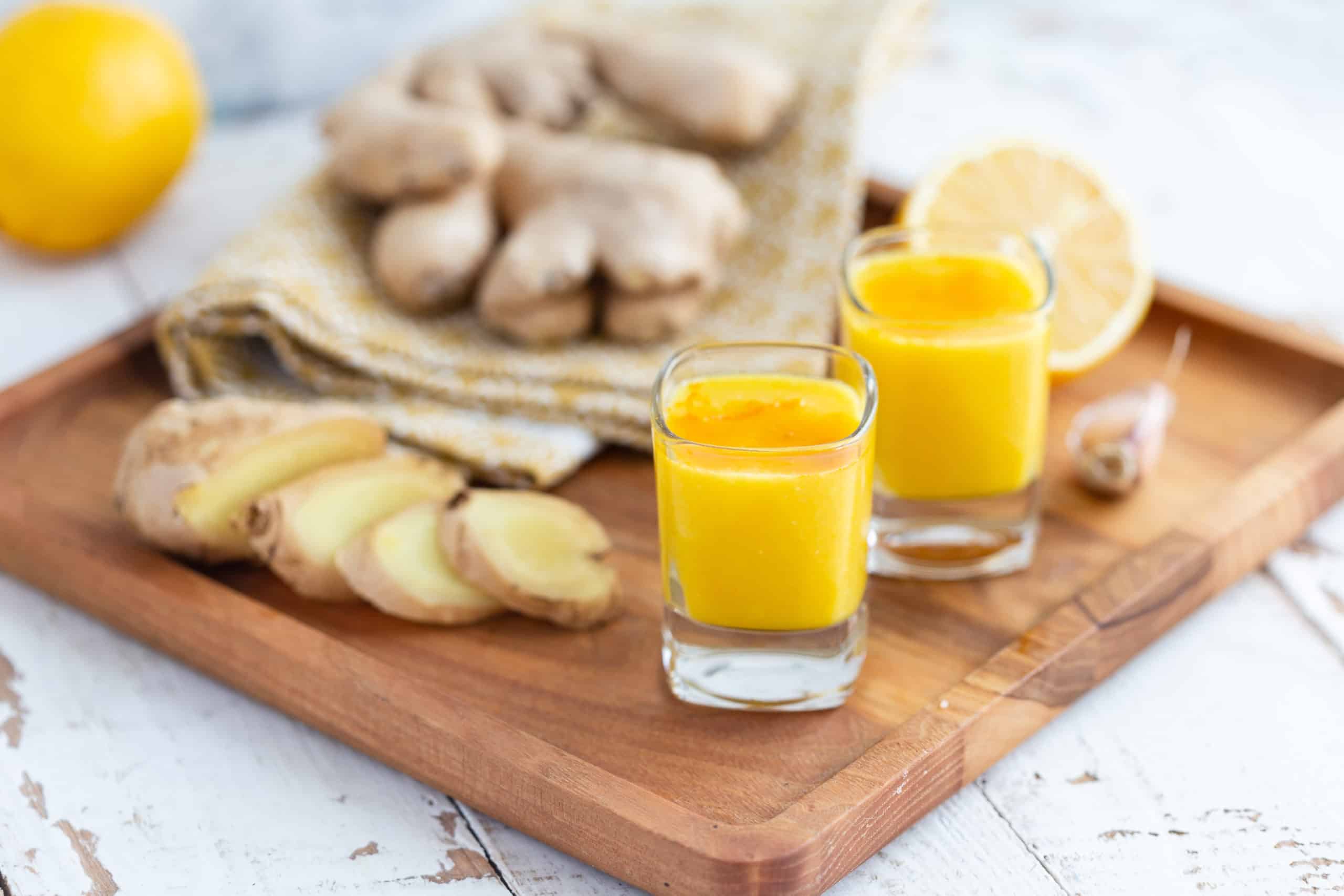 Made from one of the healthiest plants you've heard of, ginger shots are actually small doses of ginger root juice that promises to help boost your immune system and provide a series of other health benefits. But are ginger shots everything they claim to be, are they really good for you, and how can you include them in your diet?
Ginger Shots With an Omega Juicer
Ginger Shot Benefits
Here is the thing: there is no denying the fact that ginger is good for you, but most of the research that supports the benefits behind ginger has actually been made while focusing on ginger supplements in high doses, and not on ginger shots themselves. Based on the assumption that a ginger shot also has a highly concentrated dosage of ginger, some of the health benefits of these shots include:
Antioxidant and anti-inflammatory properties – Ginger is rich in a variety of different antioxidant and anti-inflammatory compounds, which include sesquiterpenes, zingerone, or gingerols. Studies have revealed the fact that ginger can reduce inflammation in people who suffer from conditions such as asthma, inflammatory gut disease, or rheumatoid arthritis.
Boosts the immune system – Because ginger has very powerful antioxidant and anti-inflammatory effects, it is believed to be a great way to boost your immune health.  It is a well-known fact that chronic inflammation is harmful to the immune system, and this is something that ginger shots may be able to help you with.  Because they are rich in antioxidants, ginger shots can help combat inflammation, thus leading to a more powerful immune system.  Even more, there are plenty of other ingredients that you can find in ginger shots that can contribute to better immune health, such as honey or lemon juice.
Helps with stomach problems – Ginger is also a very popular choice as a natural treatment that can help with stomach problems such as indigestion or bloating.  In fact, ginger-based supplements can help improve the digestive system and can also help reduce intestinal cramping.  This ingredient is often used to help treat nausea and it is actually a common remedy that pregnant women take.
Contributes to weight loss – According to some studies, ginger is also efficient in decreasing hunger and helping your body burn more calories as you digest your food.  As a consequence, ginger can actually be a very helpful ingredient that helps boost weight loss.
Fights nausea – One of the most common reasons why people consume ginger is because it is an efficient remedy against nausea. In fact, ginger has been consumed for a very long time by people who have seasickness, and it is actually very useful for those who have morning sickness (pregnant women included).
Lowers blood sugar levels – According to a study conducted in 2015, ginger can be very efficient in the fight against diabetes. With getting into the very technical details, the study revealed that consuming ginger can actually reduce blood sugar levels in the long-term, while also lowering some of the risk factors for heart disease.
Lowers cholesterol levels – High levels of bad cholesterol in the body will increase the risk of heart disease. Cholesterol is greatly influenced by the food you consume, as some of them are rich in good cholesterol, while others will increase bad cholesterol levels. According to one study, people who consume ginger have reduced cholesterol markers. While the study was conducted with three grams of ginger powder consumed on a daily basis, the results are believed to be good even for those who drink ginger shots.
Ginger Shots FAQ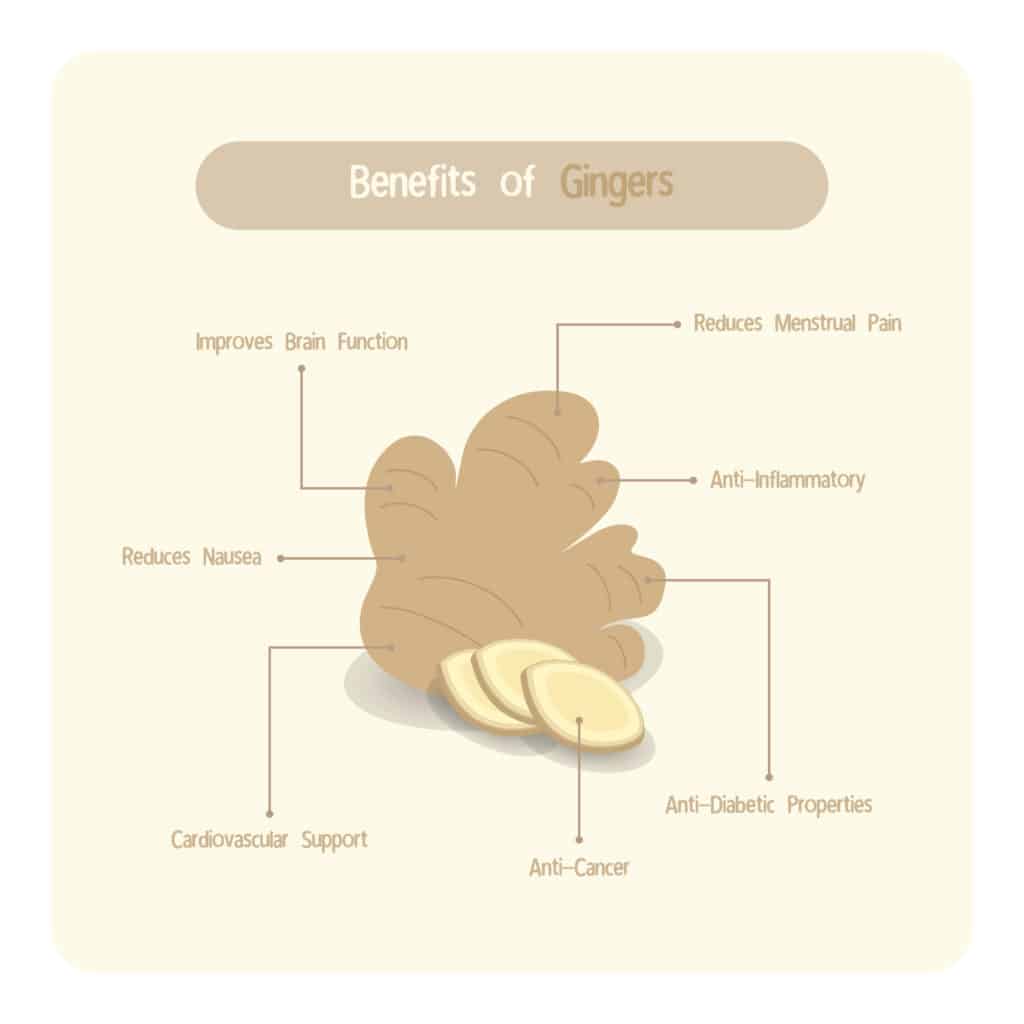 While gingers shots have been well received by their wellness community, you have to wonder if the hype around these boosters doesn't actually come with any potential downsides. It's perfectly normal to question everything, so we're going to try and answer some of the most popular questions related to ginger shots and their impact on your body.
Q: What does a ginger shot do?
A: A ginger shot is nothing more than juice squeezed from ginger root. Because it has a high concentration of ginger, this type of shot will always be known as a "ginger shot" regardless of what other ingredients may be found in it. It can be found in powder form in many different online and offline stores, but it's also something that you can make by yourself if you have a juicer or a blender. A ginger shot is meant to help on the road to recovery for people who are suffering from different short and long-term conditions, from asthma to an upset stomach.
Q: What are ginger shots good for?
A: Ginger shots can be incredible immune system boosters, but their effects are multiplied depending on what else is included in the recipe. When you combine ginger with lemon juice, for instance, you get a shot that's really good in fighting colds, while adding a bit of pepper into the mix will help against cough and help in treating a sore throat. Ginger shots are also rich in antioxidants and they help fight free radicals, but they are also consumed for their anti-inflammatory properties.
Q: Are ginger shots good for you?
A: In theory, yes. In practice, it really depends on what you hope to achieve with a ginger shot. We are not contesting the fact that ginger shots are incredibly beneficial for one's health and that consuming them on a regular basis can improve your overall health considerably, but they should never be taken as an alternative to the medicine prescribed by a doctor. Always make sure that you consult with your doctor if you are suffering from any kind of medical condition that you think ginger shots might be good for.
Q: How often should you drink ginger shots?
A:  The correct answer to this question depends on why it is you're drinking ginger shots in the first place. For example, if you're having a cold or the flu, you can drink a ginger shot every day until you're starting to feel better (and you can combine it with honey and lemon so that it can help aid with a sore throat). People who consume ginger shots because they're interested in losing weight need to drink one shot every day, as part of their diet. You can also consume ginger shots occasionally if your goal is, for instance, to help your body with its digestion or to help treat an upset stomach.
Ginger Shot Recipes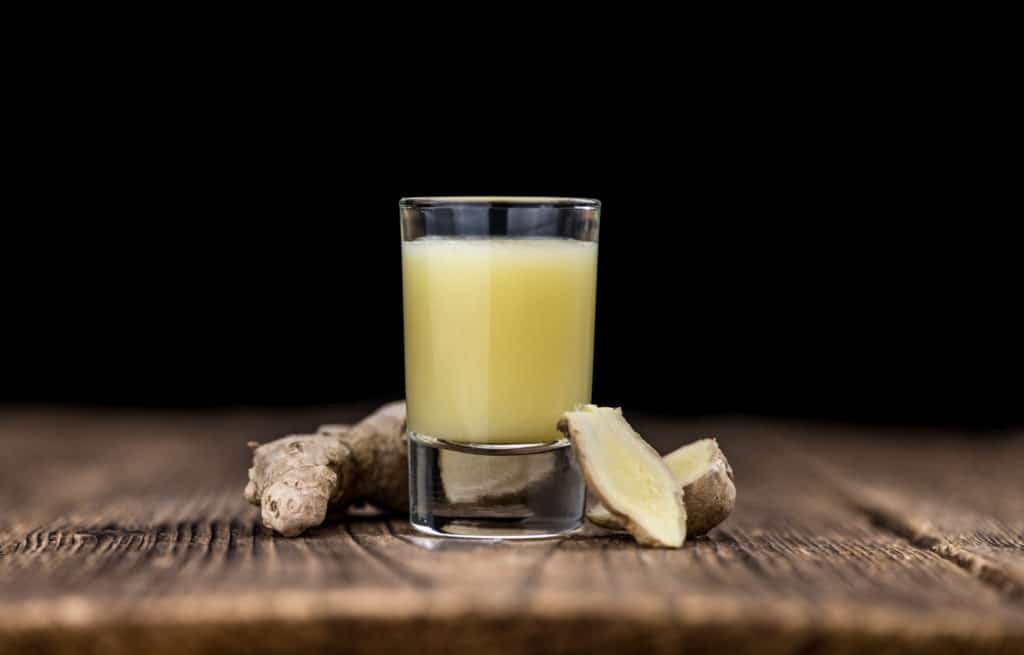 One of the most recommended ways for you to consume a ginger shot is by combining it with lemon juice.  As you may already know, lemon also has different health benefits because of its high vitamin C content.
The recipe for making a lemon juice and ginger shot is super simple.  You have to combine the juice from half a lemon with a large knob of ginger.  Peel off the skin and add the ginger knob into the juicer.  Mix the two different types of juice and pour them into a shot glass.
If you would like to something a little spicier you can add a pinch of Cayenne pepper to this shot recipe.  Cayenne does have its own health benefits, as it can help to boost circulation.  It also contains a compound that can aid in soothing pain.  It can also be a great remedy for stomach pain and diarrhea.  The recipe is identical to the one mentioned above, as you can simply add the pinch of pepper in the end mixture before drinking the shot.
The last recipe we're going to give you is for immune-boosting ginger shots.  Consuming ginger shots for cold and flu prevention and treatment is a rather new practice, even if people have known about the benefits of ginger for decades.
This is an apple and turmeric ginger shot that requires a juicer.  For this recipe, you will need one apple, a two-inch piece of turmeric root, a two-inch piece of ginger root, and two lemons.  Make sure that you thoroughly wash all the gradients and peel them unless they are organic.  Cut all the ingredients into smaller bits and put them into the juicer.
You can also make this recipe if you have a blender, but you will be required to add a little bit of water and blend everything until you get a smooth drink.
Best Juicer for Ginger Shots: Koios B5100 (Affordable and Efficient)
We went on and on about how amazing ginger is and what are some of the best ginger shot recipes that everyone can include in their diet, but it's high time we spoke about one of the most essential tools in making those shots: the juicer. Without further ado, we want to introduce you to what we believe to be the best juicer for ginger shots: the KOIOS.
Simple to use and with a very food construction, the KOIOS juicer is designed for people looking for an affordable juicer that delivers quality results without wasting any ingredients. While there is room from improvement in terms of how dry the pulp is, it is one of the best products in its price range.
The KOIOS B5100 operates at a speed of 80 RPM, being equipped with a motor that has a rather quiet operation of 60 dB. All the detachable parts of the juicer can be washed in the dishwasher, thus resulting in hassle-free juice making every day. The unit is equipped with a setting for soft and one for hard fruit, showing you once more that it can handle anything from oranges to ginger, to hard vegetables like carrots and beets.
All the parts of the juicer that come in contact with your fruits and vegetables are BPA-free, so you can rest assured that even if you're buying something more affordable, it is still made with food-grade materials.
Click Here to See the Koios Juicer on Amazon
Best Blender for Ginger Shots: Instant Ace Blender (Extreme Versatility)
Having a juicer is awesome because you can get the best liquid out of fresh fruit and vegetables, which basically translates into health in a glass. Even so, a good blender is almost indispensable in one's kitchen, and if you feel a blender is something that you'd like to invest in (to make ginger shots and many other things), then the Instant Ace Blender from the makers of Instant Pot might be just what you need.
The blender is a multi-use blender, great for cooking and blending beverages. I recommend it due to its versatility, you can blend ginger shots and then make a smoothie with the same machine. This blender also makes frozen desserts, crushed ice, nut butters, nut milks, oat milk and soups. The Instant Ace blender will become a kitchen staple for you.
The unit is equipped with 8 one-touch programs and a delay start function with 10-speed customizable blending. The powerful 26,500 RPM high torque motor and 8 hardened steel blades will pulverize ginger quickly into juice. It comes with a 54oz / 1.6L pitcher, gloss black touchscreen with 19 controls, an advanced microprocessor and 8 customizable built-in programs.
Click Here to See the Instant Ace Blender on Amazon
Conclusion
Ginger is a plant with a bunch of different health benefits that have long been studied in the medical world. There is a good reason why ginger supplements are being sold all over the world, and studies have revealed the beneficial properties that ginger has in boosting the immune system, helping the body fight off free radical, and even helping in the fight against the cold.
Ginger shots may not have been the center of attention for a very long time, but one can tell that they are just as beneficial for the health as ginger itself. Simple or combined with other ingredients that are good for the health (like pepper, lemon juice, honey, or a variety of other fruits and vegetables), a ginger shot can go a long way in keeping the body healthy.