When using regular blenders for smoothies, you're actually missing something. A regular blender is not sufficient to make perfect smoothies with its energy and jar capacity. Only a change in selecting the blender can allow you to test the right smoothies that you always desire for. This change is basically finding the best blender for smoothies.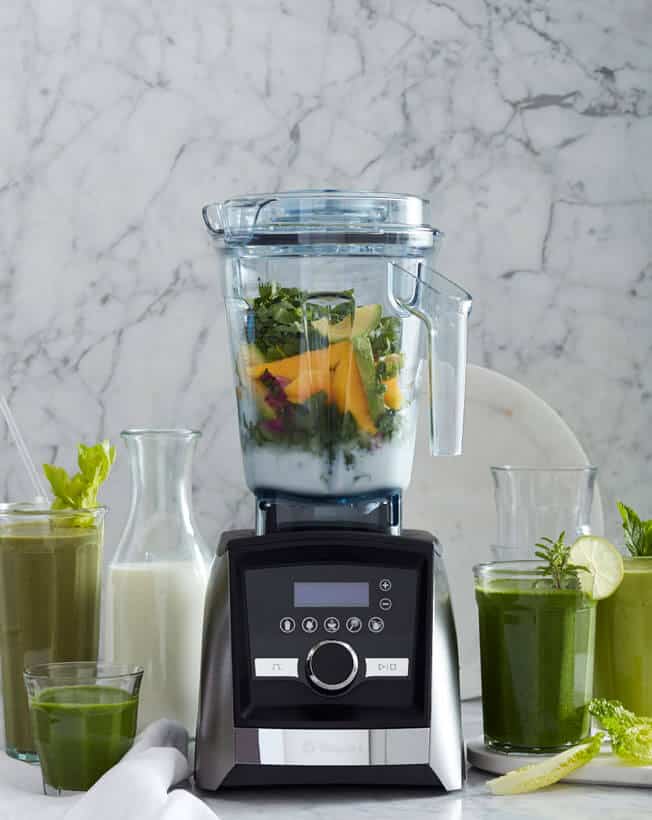 It is important to make your investment secure. A blender should come with specific capabilities to serve you with the delicious smoothies. The following article includes special blenders that make the smoothies best. Let's proceed on to check what are some ideal smoothie blenders on the market now.
Our Top Picks of 8 Best Blender for Smoothies
Top Pick – Vitamix 5200 Blender Professional-Grade
If you are craving for a healthy and refreshing juice just like those restaurant smoothies then Vitamix 5200 blender is a perfect choice. This built to the last blender turns your favorite veggies and fruits into a healthy and refreshing smoothie by blending the whole ingredient.
This powerful blender can blend large batches of ingredients as it features a 64 oz container which is perfect for medium to large-sized families. This machine not only blends juices or smoothies but also grinds coffee and nuts, creates frozen desserts and sauces.
You don't have to worry about the cleaning, just add a drop of liquid soap and warm water into the blender, blend them for 40-60 seconds and the blender will become clean and dirt-free. It is a highly efficient kitchen appliance that everyone requires.
Top Features:
A thermal protection system and a built-in cooling fan for more productivity.
Its 64oz container can blend a large portion of ingredients.
Very easy to clean with warm water and dish soap, no need to disassemble it.
Can make juices, nut butter, soups, tasty desserts, sauces and more.
Long-lasting for daily use and also comes with a 7-year warranty.
Budget Pick – Ninja Professional Countertop Blender
You might get an idea about how powerful this blender is just by looking at the name. This Ninja professional blender crushes ice into snow in just a few seconds with its 1100 watt base and 3-speed functions. You can make ice-cream, desserts and cold smoothies with this powerful blender.
This blender also comes with two Ninja Nutri cups with to-go lids where you can blend your nutritious drinks and also carry them with you anywhere as its blades can be removed. Because of compact design and easily transferable structure, this is simply the best small blenders for smoothies. 
This blender has a 72 oz. pitcher which is relatively bigger than other blenders and best for making cocktails for a large number of people in parties. Another plus point about this blender is that it is less expensive than other blenders.          
Top Features:
Crushes ice in seconds and can blend tough ingredients and turns them into a tasty and healthy smoothie.
Includes two Nutri Ninja cups with lids, can be used as personal blenders.
1100 watt base gives an efficient and quick blending.
All the parts are BPA free and dishwasher safe.
Features with 3 different speeds, single-serve and pulse options.
Upgrade Pick – Vitamix A3500 Series Smart Blender
Another Vitamix blender that will not disappoint you with its service and functions is Vitamix's A3500 smart blender. This machine comes with some upgraded features like five program settings for creating frozen-desserts, smoothies, dips and spreads, hot soups and also one for self-cleaning.
It has a manual built-in timer which lets you set a timer for blending your recipes and the blender will automatically turn-off according to the timer. This feature will make your customized recipes efficient as it helps to avoid under- or over-processing the ingredients.
This blender is easy to clean as its parts are dishwasher safe or you can just clean it with dish soap and warm water. It has built-in wireless connectivity which automatically identifies the container size and adjusts the blending speed and program settings according to the user's needs.
Top Features:
Touch-screen control for effortless use.
5 blending program settings for smoothies, dips, and spreads, hot soups, frozen- desserts.
Programmable timer, to manually set a timer for perfect blending.
Features a 64 oz. container, pulse setting with 10 variable speeds.
Pairs with Vitamix App, 17 programs and 500+ recipes available.
Cuisinart CBT-2000 3.5 Peak Hurricane Pro Blender
This Cuisinart's CBT-2000 pro blender is designed with variable speed control ranging from 1,500 to 25,000 RPM and can even blend in maximum speed range 30,000 RPM. It has a commercially-rated 3.5 HP powerful motor which helps in making healthy green juices and smoothies or crushes ices in seconds.
This pro blender comes with extra-large 64 oz. BPA-free container with a soft-grip handle which makes it suitable for any house parties. It has an LCD display and programmable timer for step by step blending action. Also, a memory function is designed to adjust any preset time until you change it.
You can blend anything from dough batter to hummus or delicious frozen smoothie with its heavy-duty 6-prong stainless-steel which helps to blend the ingredients with perfection. Overall, this blender is the best blender for smoothies and ice.
Top Features:
Variable speed control ranging from 1500 – 35,000 RPM with Turbo boosts.
Features LCD display and programmable countdown timer.
Preset functions: ice crush, soup, 2 smoothie settings for green and fruits and one for cleaning.
Memory function available to adjust the preset time for blending.
A 10-year motor warranty and a 3-year warranty for other parts.
Blendtec Total Classic Original Blender
A powerful blender that blends your smoothies and makes hot soups effortlessly is the Blendtec's total classic original blender. It is considered powerful because it is designed with 1,560 Watt power, 3 HP motor with 10 variable speed controls which takes blending to a whole new level.
Its two stainless-steel forged blade with wings can easily crush ices and creates delicious frozen-desserts, ice-cream or cocktails; it also can mix batters for waffle, cake, pancakes, and cookies or kneads pizza dough in just a few minutes. It has an LCD display which shows the information of blending time.
You can also enjoy warm soups thanks to its blade friction heat, all you need is to put fresh and cold ingredients and you will get hot soup in just 6 minutes or less.
Top Features:
Features four-sided BPA-free 75 oz. blending jar with measurement markings.
Blends smoothies and batters, kneads the dough and creates a warm soup with the power of its blade friction.
One-touch button function, 6 pre-programmed cycles, 10 variable speed control, and pulse function.
Easy to clean with dish soap and warm water.
Due to versatile functions, it can be considered as the best blender for smoothies and sauces.
KitchenAid KSB1570OB 5-Speed Blender
Designed with Intelli-speed motor control this KitchenAid's KSB1570OB blender can sense contents and blend all the ingredients with perfection by maintaining optimal speed. Its classically designed56-ounce BPA-free pitcher has a resistance over the stain, shatter or scratch and is dishwasher safe.
This blender has 5 speeds to spin, liquefy, puree, mix or chop the ingredients with the pulse function to blend the ingredients with consistency. It also has an ice function to crush ices in a few minutes so that you can make your desired frozen desserts or drinks.
It is featured with a slow start blending setting which mixes smoothies, soup, dough or any tough ingredients at a slow speed at the beginning, pulling the ingredients towards the blades then increases its speed according to the speed chosen in the control panel.
It has a simple assembly with an LED control panel having blue lights that can be easily wiped with a cloth. This amazing blender with its robust blender creates delicious and healthy drinks for you and your family.
Top Features:
Features BPA-free 56 ounce pitcher, stainless-steel blades and Blue LED light control panel.
5 speeds for different purposes with pulse and ice crush functions.
Blend tough ingredients with its soft start blending feature.
Easy to clean with dishwasher or warm water.
Its Intelli-speed motor control blends ingredients at an optimal speed for smooth texture.
NutriBullet Rx N17-1001 Blender
NutriBullet's Rx N17-1001 could be considered as the best personal smoothie blender because of its multiple features and efficient blending. This powerful blender comes with 1700 watt motor which helps to blend your recipes smoothly without any chunks and gives a good consistency to the beverages.
It is easy to use thanks to its hands-free SMART technology which starts and stops the bullet blender automatically. It extracts the nutrients from the vegetables, fruits, nuts, and other ingredients at the maximum level and gives you healthy and nutritious smoothie. This bullet blender also has a 7-minute heating function to create nutritious warm soups, sauces, and other hot beverages.
You can make delicious drinks for you in its 30-ounce short cup or amazing cocktails in its 1-liter pitcher for your family. Cleaning is a breeze with dishwasher. Removable parts can be washed into warm water. This is ideal for quick preparation of smoothies or hot soups.
Top Features:
Powered with hands-free SMART technology for auto-start and stop functionality.
Powerful nutrient extractor which gets the most nutrient out of the ingredients.
Heat function available to make soups and sauces.
Featured with 1700 watt motor, 30-ounce short cup, and 1-liter pitcher.
Manufactured in compliance with US and Canadian electrical standards.
Ninja Mega Kitchen System (BL770) Blender
This model is not only a blender, but it is also a multipurpose tool and constructed to satisfy all your meal making requirements. Besides offering you smoothies, its food processor mechanism can help you to taste various foods.
With 1500 watts of motor power, it can handle any of your desired foods. It has a relatively extensive dimension and powerful crushing technology that can easily blast frozen fruits and ice as well. Two larger Nutri Ninja Cups allow you to prepare nutrient rich and personalized drinks more quickly.
This BL770 Ninja Kitchen System uniquely features a dough blade and a chopping blade. The dough blade blends dough in a faster way and the chopping blade chops ingredients evenly and perfectly.
It is a user-friendly addition to your kitchen. You can easily operate it and clean it without any hassle. Everything can be finished with fun while this blender is helping you with blending, meal processing, vitamin, and nutrient extraction.
Top Features:
72 oz. strong crushing pitcher makes creamy and frozen drinks in seconds.
2 Horsepower, sufficient to prepare any drinks and process foods.
8 cup processor bowl ensures even chopping.
BPA-free materials and dishwasher safe parts make it more efficient and usable.
30 recipes guide included to make your daily diet more pleasing.
Smoothie Blender FAQs
Can I use a normal blender to make smoothies?
If you want to taste delicious and pure smoothies, you will need to consider purpose-built blender. A usual blender does not have sufficient power and capabilities to make smoothies. Though some common blenders are able to create smoothies, they can never meet your desire for pure smoothies.
Which Ninja blender is best for smoothies?
Well, #2 Ninja Professional Countertop Blender could be a better option for smoothies. It has more efficiency to prepare personalized smoothies than #8 BL770 Ninja Kitchen System. However, both can fulfill your smoothie making needs.
What is the best blender for kale smoothies?
Most of the above-mentioned blenders are powerful enough to chop green vegetables. But NutriBullet Rx N17-1001 Blender can give you a much better result for kale smoothies.
Which blender is best for green smoothies?
Vitamix 5200 Blender is a professional-grade blender. With so many versatile uses, it is ideal to make green smoothies. The extreme chopping mechanism keeps this out of the usual blenders. Another best blender for green smoothies is #4 Cuisinart CBT-2000.
Wrap Up
When buying the best blender for smoothies, you will do everything from your end to make the investment secure. These reviews on this page could help you find the perfect blender and make it a great investment. However, there is a chance to be confused again to choose from the above blenders. To help you decide easily, I suggest you my choice #1 Vitamix 5200 Blender. You can take a look at this blender's review again and you will easily realize why I prefer that here among all other blenders.
DISCLAIMER: THERE ARE AFFILIATE LINKS IN THIS POST. THIS MEANS THAT AT NO COST TO YOU, WE WILL RECEIVE A SMALL COMMISSION IF YOU PURCHASE THROUGH OUR LINK. YOU MAY READ FULL DISCLOSURE POLICY FOR MORE INFORMATION.