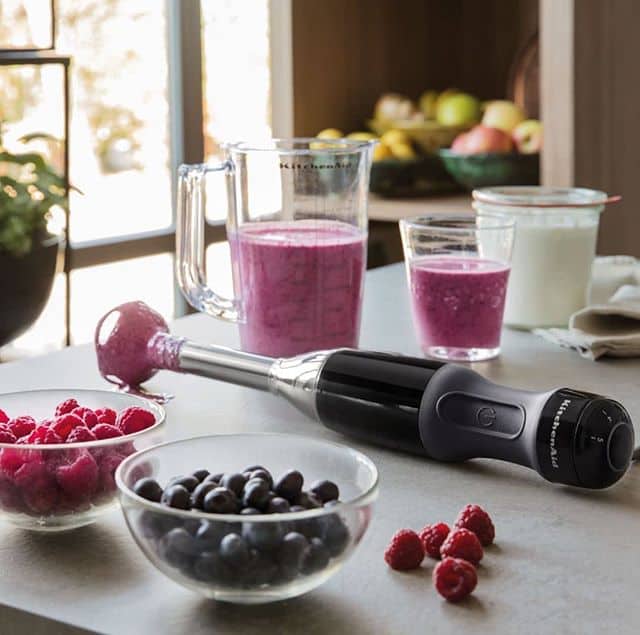 An Immersion blender is one of the most common blending equipment in every household. But if you do not have the idea what is an immersion blender and why you need it then I am here to brief you about this little useful kitchen tool. Hope it is going to be a great piece to support you.
With an immersion blender, you can blend soup, sauce, and other liquid items. In the market, you can get it with the name of a stick blender, wand blender, hand blender, etc. At your kitchen, use it in a container to puree food or to blend ingredients.
The blade at the bottom of the immersion blender does the main job. This stick-size blender can be kept anywhere you like and will take a little place only. No matter what you blend, using one hand will be enough to complete the blending process. Spend some time to go through this article and I will let you know everything about this convenient appliance.
The Best Immersion Blender:
Sale
Best Immersion Blender - Vitamix Immersion Blender
Vitamix has taken their well known quality and developed this 18 inch immersion blender that will have you making creamy soups in no time. 5-Variable speed settings combined with a powerful motor allows effortless blending
Last update on 2023-11-29 / Affiliate links / Images from Amazon Product Advertising API
What Is an Immersion Blender?
In a sentence, an immersion blender is the easiest way of blending. If you have the habit to use a regular blender then you know how time killing process it is. You have to clean every corner carefully, then pouring, emptying, and a few more complicated things to maintain.
With an immersion blender, you do not have to do all these. Just insert it into the cup or container where your liquid is and turn it on. Move it so that it can reach every corner. Make sure that the whole liquid is evenly blended.
An immersion blender is handy when you have quite a good amount of soup or any other item to blend. If you have that much item that will force you to go for the second batch with a countertop blender then you can bring in your immersion blender.
Blending one third or half of the item, pour it in one large container then go for the remaining, blend it, and mix it properly with the previous batch. I think this whole process is time killing and bounds you to use several containers. If you have an alternate way which is easy and simple like the immersion blender, why don't you go for it?
Can It Process All Kinds of Food?
If vegetables, cooked meat, and other hard stuff are the items that you want to blend then you should go for a good immersion blender. These blenders are powerful enough to make a proper mixture of any hard item. Remember this hand blender will cost you a little more than a regular one.
In the market, there is quite a different type of blenders available. Some blenders are only for preparing drinks like juice and smoothies. So before buying, decide first what the items you want to blend. A heavy-duty blender is compulsory for hard ingredients.
Why You Need an Immersion Blender?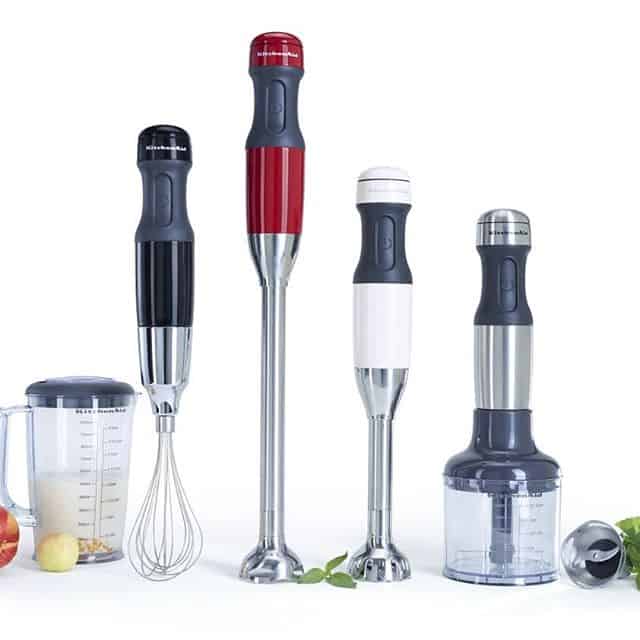 Having an immersion or stick blender is quite common in every household nowadays. If you do not have one then you should bring it as it can do almost every blending task easily. Note that, you can puree fibrous vegetables and crushing ice with a quality immersion blender.
Like other large size blenders, you do not have to save a place to put it. Just throw it in your kitchen or room drawer and bring in while necessary. Because of simple construction, there is nothing to be confused about how to use or start. The easy cleaning process confirms no hassle after every use.
If you want to know the real comparison between the countertop blender and the immersion blender then I prefer to say that an immersion blender will cover almost 90% of the job that a countertop can do. So, if you do not have any blender and thinking to bring in one then an immersion blender will be perhaps the right choice.
You must admit that a countertop eats up a lot of space. Moreover, you have to use a few containers, spoon for mixing and last of all go for the lengthy cleaning process. It looks like a complete preparation for a simple job like juicing or blending. Whenever you need blending take the immersion blender and complete the task in a short time without any hassle.
What Items are the Best for Immersion Blender?
As said before immersion and countertop blenders perform almost the same. Hence, we have listed a few that are the best for an immersion blender.
Creamy Soups: Tomato or butternut squash soup, with an immersion blender there will be no easier way to prepare this delicious starter and achieve a creamy texture. Add all ingredients and use the hand blender, your soup will be ready.
Homemade Mayonnaise: To produce creamy and delicate mayonnaise, the immersion blender is an ideal appliance rather than any. Put all the ingredients and blend firmly to receive mayonnaise with perfect combination and taste.
Whipped cream: Take few ounces of cream in an immersion blender. Blend it for a little time and your whipped cream will be ready to use. It may not take the exact look or fluffiness but will not turn into butter for sure. Before using confirm it that your particular model can do so or not.
Smoothies: What about a perfect glass of smoothie in your breakfast table in a short time. Frozen fruit, spinach, yogurt, ginger, and whatever the item is, just push it in your immersion blender, start and drink. No extra container or heavy cleaning needed.
A Few Downsides
The immersion blender is a convenient little tool that can make your blending easy and comfortable. But you will never find any appliance that can do everything. Let's take a look at few downsides of a hand blender.
It reduces power quiet frequently.
As the blades are tiny its chopping ability is limited.
Reduces the balance of the container you are using.
You need to be aware of safety.
Final Verdict
The immersion blender is a multi-use, compact, and easy to clean appliance that you can use daily. This little and single rotary blade blender can do jobs like beating, pureeing, whipping and mixing ingredients. Rather than going for the long blending process with countertop blender you can pick immersion to get an impressive result.
There are many types of immersion blender in the market that covers different features and will not cost much. It is time to bring one and experience effortless blending.