Drinking a fresh fruit and vegetable juice daily provides your body with loads of vitamins and minerals and in turn has many health benefits. However, if you were to focus on using seasonal fruits and vegetables, you would be doing an even greater service to your body.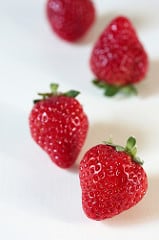 Consuming seasonal produce not only tastes better, but the nutritional level is higher. Think about eating a strawberry in the dead of winter, it might be slightly sweet, probably a bit tart, but overall disappointing.
Now imagine that it is peak season for strawberry growing and you bite into a sweet, juicy delicious strawberry. The taste is incomparable. Not only is the taste better, but it is actually more nutritious.
When you buy produce that is out of season in your geographical location, that means it's had to travel quite a ways to get to you. Often from a different country or maybe even a different continent! Because of the miles the produce has to travel, it is often picked before it is fully ripe and allowed to ripen in transit.
There are many different ways to speed up the ripening process, some of which rely on the use of chemicals. When the fruit or vegetable has not been allowed to fully ripen, it does not develop the amount of nutrients that it otherwise would. Also, once a fruit has been picked, it starts to break down and therefore lose some of it's nutritional value.
Consideration should also be given to what it takes to get the produce to your local supermarket in terms of natural resources. We might not automatically think about the impact that our food choices have on the environment, but they are immense. What is referred to as "food miles", is the distance that something has to travel to make it to the store.
When you eat berries in the winter, for example, they have likely traveled thousands of miles to reach you. Those miles traveled involved a lot of fuel, which is taxing on the environment.
For these reasons, it's best to think seasonally and choose produce that you can find at your local farmers market. This may not always be easy depending on where you live, believe me, I grew up in the harsh winters of the Midwest.
However, with some creativity and resourcefulness, you can select the best produce for your juices during each season. Not only will you end up with a better tasting end result, but a more nutritious one as well.
Here are the best produce selections for each season. Note: this will vary slightly depending on where you live.
Autumn
The weather is beginning to cool, which for some might be a welcome change to the heat of summer. The cooler temperatures bring with it tasty apples, pears and cranberries, perfect for developing your own autumnal creation.
Apples
Bell pepper
Cranberries
Pears
Pomegranates
Carrots
Kiwi
Watermelon
Winter
The days are short, the nights are long and the weather is cold, but that doesn't mean you have to give up on your daily juice. There is still plenty of produce to choose from, think root vegetables such as carrots and beets.
Apples
Kale
Swiss chard
Beets
Celery
Persimmon
Pumpkin
Fennel
Blood orange
Also Read: Juicers Black friday
Spring
The winter frost has thawed and the weather is beginning to warm. Many people experience bliss during those first few days of warm weather. Farmer's markets will begin to be more abundant and your juices will reap the rewards.
Arugula
Parsley
Pineapple
Rhubarb
Strawberry
Swiss chard
Watercress
Summer
Ah, sweet summer! The time of year that farmer's markets are at their peak and their bounty is plentiful. There are endless produce options at this time of year, so it's a perfect time to branch out and experiment with some new flavor combinations
Apricots
Basil
Blueberries
Cherries
Figs
Melons
Raspberries
Peaches
Blackberries
Plums