When you mix celery with some other ingredients for a new taste, it turns into a delicious juice you will really want to drink daily. Celery – particularly celery juice is an aboveboard thing for lots of good reasons. The alleged advantages include enhanced gut health, lowered inflammation, and decreased blood pressure.
Related: Check out the best juicer for Celery in 2021.
Check out my most preferred celery recipes that will amuse you with many incredible benefits.  I have used my juicer to prepare all the juices. Make sure you own best celery juicer, not blender for the natural taste and bunch of nutrients. 
1. The Celery Kale Green
Instead of enjoying only celery juice, you can taste other greens like Kale, cucumber and cilantro in this recipe. It tastes sweet and creates a stronger flavor. This is not ideal for those who are not comfortable with highly flavors food. This juice let your body to absorb different types of nutrients.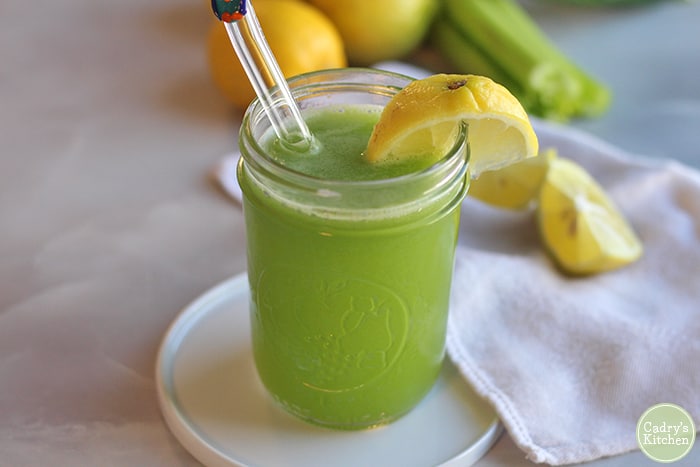 Necessary Ingredients
5 stalks of green celery
½ bunch of Lacinato Kale or Italian Kale
1 medium size cucumber
1 cup gently chopped cilantro
2 green apple
Instructions
Grab the celery stalks. Make sure they are neat and clean. Put the celery and cucumber into the feeding tube of the juicer. Complete it on the 'low' setting.
Then run the kale, apple, and cilantro one by one on the high speed through the machine. If you find it time-consuming and producing a lower yield, you can chop apple and kale before feeding into the machine.
Collect the juice in the jar or glass. For the genuine taste, drink it immediately. Otherwise, store it in a sealed jar for up to 24 hours without harming anything.
The juice yield is ideal for 1 adult.
2. Delicious Celery Delight 
The delicious celery juice can be prepared in the home within 10 minutes. It is, no doubt, one of the favorite juices in my home. I particularly like it because of the easy processing method and amazing taste. Even the children, can consume it without bothering.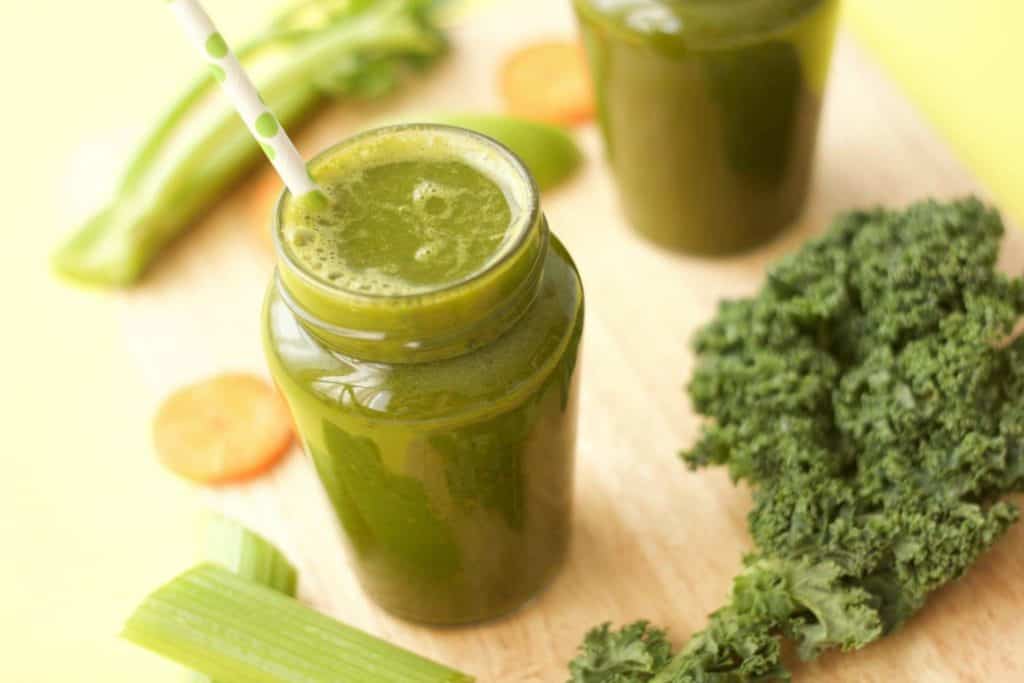 Necessary Ingredients
2 stalks of organic celery
1 medium size carrots
1 small head of broccoli
1-inch of a knuckle ginger
Instructions
Prepare all the ingredients. Wash them and cut if necessary to fit the juicer chute. Sliced carrots can be juiced more easily.
Juice the celery and broccoli first with a slow speed. Carrots and ginger require higher speed to juice flawlessly. Juice all the ingredients until you see the dry pulp.
The juice fills up the jar. You can drink straight away or store in the freeze. Don't exceed 24 hours to drink the organic celery juice.
3. Celery and Ginger Juice
This juice recipe gives you amazing taste by eliminating the bitter taste of celery stalks. Adding ginger, cucumber, green apple, and lemon makes this one of the beneficial and delicious juices. It does not contain more sugar; anybody drinks this juice to start their morning!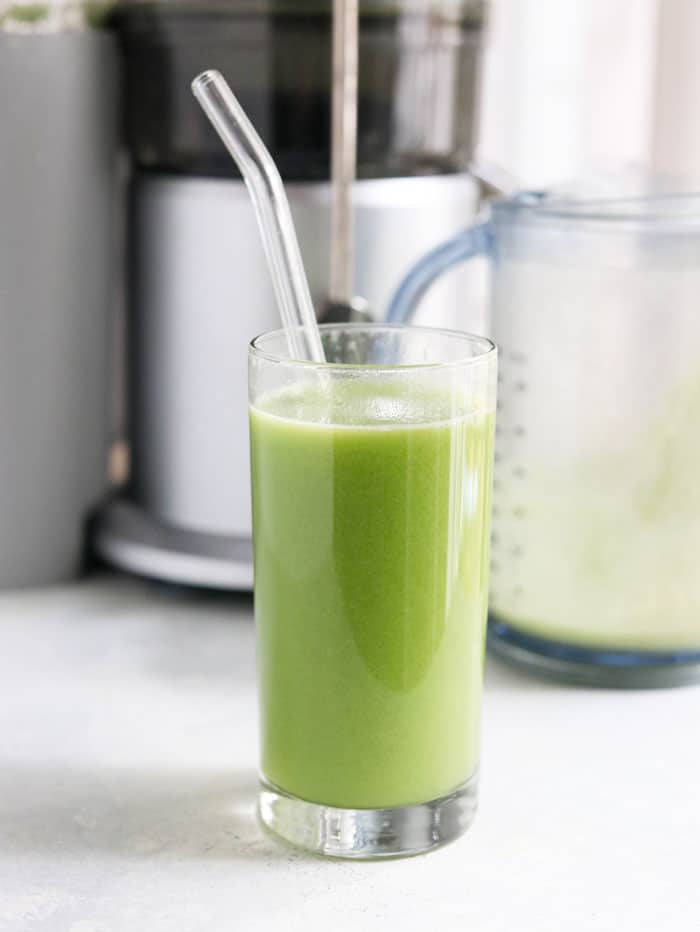 Necessary Ingredients
1 heart of celery or 1 bunch of fresh celery
1-inch of a clean ginger
½ of a medium size English cucumber
1 medium-size green apple
½ of a large lemon
Instructions
Get ready your juicer to the default setting. It is fine if your juicer has a 'low' and 'high' setting. On the 'low' setting, run 1 heart of celery and the selected portion of cucumber through the juicer first.
Then turn your machine into the 'high' setting. Run the ginger, green apple and lemon through the machine. Ginger is a quite harder ingredient and I try to slice before putting it in the machine. You can do this for apple too. Lemon is quite easier to juice and it creates a nice flavor after juicing.
Collect the juice in a clean jar. You can drink it immediately for the most favored taste. However, this juice can be stored in an airtight jar for 24 hours in your fridge without losing the nutrients.
The juice yield is perfect for 1 person. Take it in the morning or before going to bed.
4. The Mild Spicy Celery Juice
Celery contains a little sugar and due to this, many of the juice enthusiasts do not prefer it. This recipe is certainly a nice tasting juice excluding the bitter taste and ideal for everybody. It offers a spicy flavor with perfect sweetness. Besides the taste, it provides many essential vitamins and nutrients.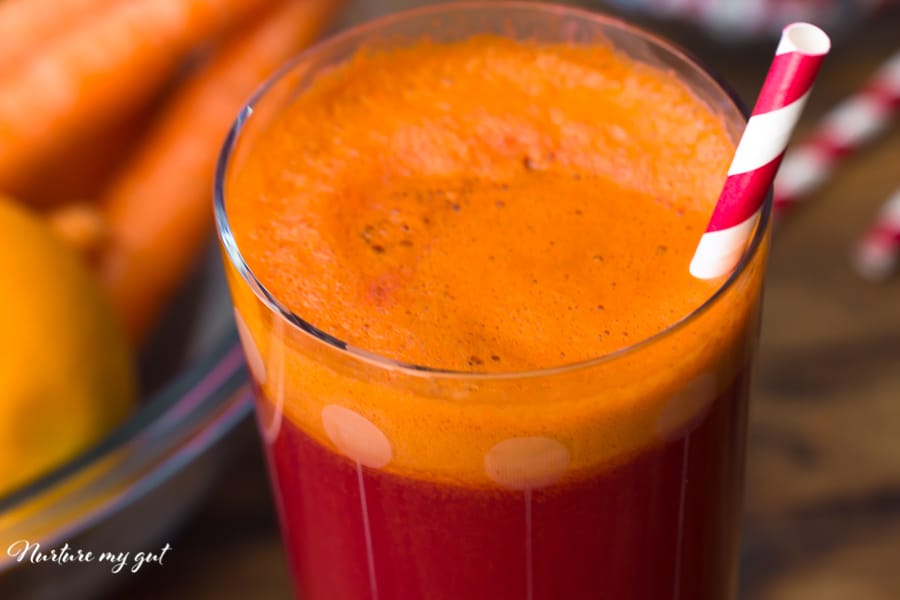 Necessary Ingredients
4 stalks of organic celery
2 medium size beets
2 fresh carrots
1/3 head of red cabbage
½ of the fresh lettuce
¼ of the cantaloupe
Instructions
Slice the beets, carrots, cabbage, and cantaloupe. These are comparatively harder to juice when you put them wholly. So, previously sliced ingredients will make the juicing process simple.
Start juicing the celery and lettuce first on the standard lower speed of your machine. Then put other ingredients one by one into the feed chute.
If the pulp is not dry enough, put them again into the machine. Do it until you see the pulp completely dried.
Drink this incredibly beneficial juice on your empty stomach for the highest benefits.
Flexoffers