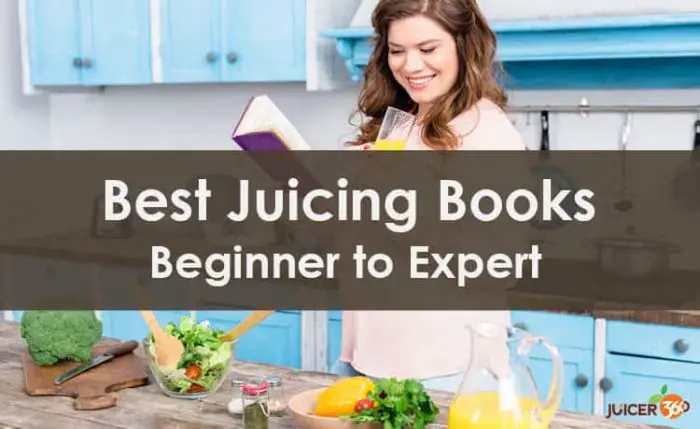 Updated 9/10/2023
A great juicing book will take you a long way in your juicing journey.  Books are a convenient and lasting way to have juicing recipes, tips, and techniques at the tip of your fingers.  A good juicing book will be filled with more than just recipes, it should include information on the health benefits of juicing as well, some will even include specific juices for health conditions.
I have arranged the list with the most popular, reviewed, and effective books.  While any of these books can provide information about juicing, or provide recipes, we think that the best book on juicing is The Juicing Bible due to its comprehensive list of 350 recipes coupled with the information on the 7 body systems and how to heal ailments naturally.
Also Read: Celery Juicer Buying Guide
List of The Best Juicing Books in 2021
Best Juicing Books of 2021
1. The Juicing Bible – Best juicing book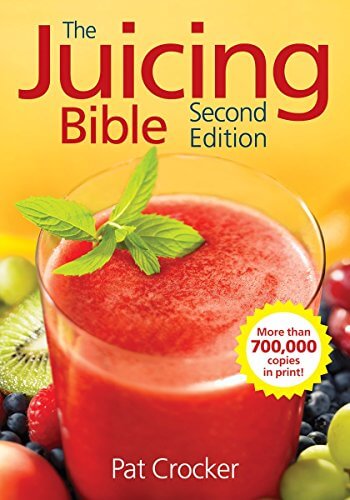 This book is a comprehensive bestselling juice book.  The book contains 350 recipes that range from juices and smoothies to cleansers and digestives.  It also includes information on the seven body systems and details on 80 common heath concerns with clear diet and lifestyle recommendations to combat each condition.
The Juicing Bible is much more than a recipe book explaining how the proper juicing diet influences body functions.  It contains detailed information about a large variety of vegetables, fruits, and herbs. This book is a must for anyone, beginner, or avid juicer.
Pat Crocker, the author, has 25 years of experience with natural foods, in 2000 she won the International Cookbook Revue Award for this book.
Check Preview & price on amazon.com
---
2. Juicing for Beginners: The Essential Guide to Juicing Recipes for Weight Loss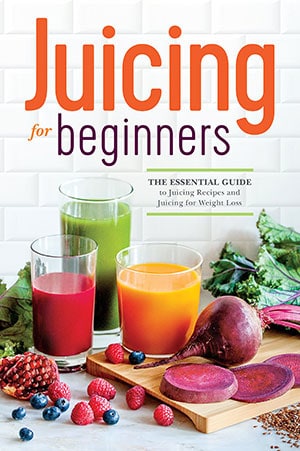 If you are a beginner juicer and looking to lose some weight with healthy juicing recipes, this is the book for you.  This book will cover the 101 of juicing, explaining why juicing is good for you along with offering some helpful tips on choosing a juicer.  The book also contains 100 juice recipes and will help you design your personal juicing plan to meet your weight loss goals.
Juicing for Beginners is your go-to guide to understand juicers and juicing properly.  This book will explain how juicing helps you to boost immune system and improve your health. The book contains 100 tasty and creative recipes, detailed nutrition chart, and weight loss plans. Additionally, it gives you exclusive tips on how to buy best juicers on the market.
Check Preview & price on amazon.com
---
3. The Everything Juicing Book – Juicing Recipe Book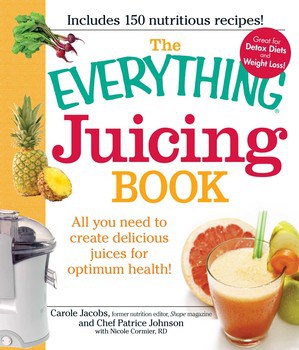 The best way to consume the nutrients of vegetables is to drink them. The Everything Juicing Book is a basic juicing guide that will teach you everything about fruit and vegetable juicing, including the healthiest ingredients, best process to prepare them, and the benefits of juicing.
This book is ideal for those just starting out with juicing, but not a bad option for those who are experienced. The book contains a delicious collection of 150 recipes which are easy to prepare. You can explore the basics of juicing and some important sub-topics such as weight loss and detoxification. All the recipes in the book require common fruits and vegetables that let you make a glass of juice without any hassle.
Check Preview & price on amazon.com
---
4. The Reboot with Joe Juice Diet – Inspirational Juice Book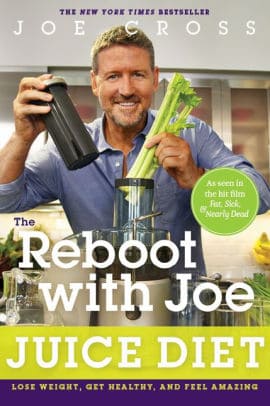 The book Reboot with Joe Juice comes from the very person, Joe Cross, who made the documentary Fat, Sick, and Nearly Dead. Joe was facing many health crises and finally, he overcame obesity and his health challenges. He shares what worked for him and his experiences in this in-depth juicing book. He described his early life which was full of mistakes and his feelings towards junk food and health.
The book will teach you the methods Joe applied to overcome bad habits, poor health, and obesity. The book includes the necessary tools and elements that are required to start the journey, including inspiration, encouragement, recipes, and diet plans. It's a real experience-based guide that will support you to success.
Check Preview & price on amazon.com
---
5. The Big Book of Juices – Best Juice Recipe Book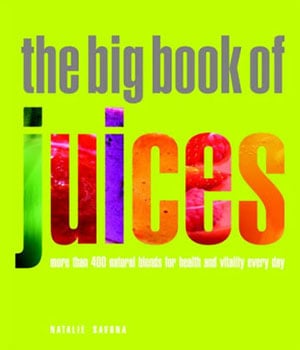 The Big Book of Juices is a giant database of healthy recipes. It is one of the most popular and reviewed books on the Internet. It is a book that is gifted frequently and of course, a must-have book for the juice lovers.
There are 405 recipes in the book, recipes range from fruit and vegetable juices, quenchers, and smoothies. Although, it is a large book its brilliant indexing system helps to find out any recipes easily. The recipes are scored on a five-star rating system that distinguishes recipes based on effectiveness, energy impact, and detoxifying ability.
Most of the juices are fruit-vegetable blends in the book, but you can enjoy fruit-veggie concoctions too. No doubt, it is an awesome book to add to your kitchen when you are feeling the need for a creative juice or smoothie.
Check Preview & price on amazon.com
---
Best Books on Juicing for Weight Loss
1. Juicing Recipes for Rapid Weight Loss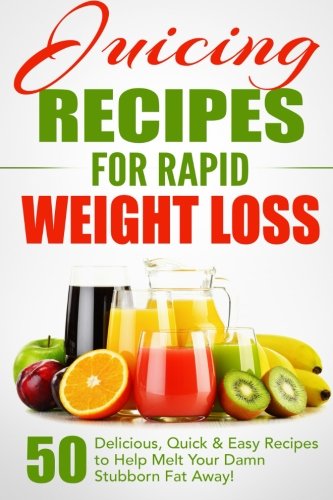 Juicing Recipes for Rapid Weight Loss, a book that helps to lose weight faster. What will you receive from this book? – The quick answer is everything that is required to lose weight in a healthy way. Exclusive juicing recipes, diet plan, and tips make the book a must-have collection for the health enthusiasts.
This book contains 50 juicing recipes which can be prepared at your fingertips. The book will also explain the benefits of specific juices so that you can select the one that will fit your needs.
Every recipe includes the detailed information about the ingredients and preparation. The book is organized in a user-friendly way that makes it very practical.
Check Preview & price on amazon.com
---
2. Fat, Sick & Nearly Dead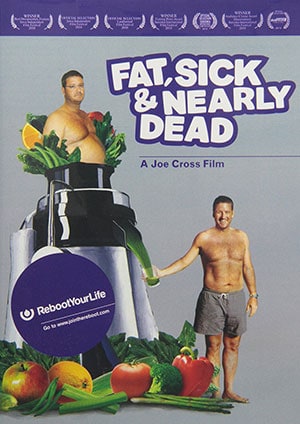 Fat, Sick & Nearly Dead is not actually a book, but a film that can help you learn about losing weight and getting healthy from juicing. In the film, 100-pound overweight, Joe became almost hopeless. At the end, he realized that he has only one option to heal himself and his health issues, which was to use his own body's healing power. He gave up all junk foods and sugary drinks and consumed fresh vegetables and fruit juices for 60 days.
He travelled more than 3,000 miles and talked with hundreds of Americans about health, food, and longevity. Many people have been inspired by Joe to start living a healthy life filled with fresh vegetables and fruits.
If you need inspiration this movie will do it for you.
Check Preview & price on amazon.com
---
Best Juice Recipe Book
1. Crazy Sexy Juice – Best Juicing Recipe Book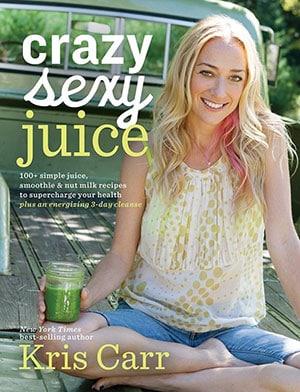 In Crazy Sexy Juice, Kris Carr covers everything you need to know about making fresh juices, creamy smoothies, and nut/seed milks.
This book contains more than 100 juice recipes that are perfect for every season, along with an energizing 3-day cleanse. You will learn how to choose the right juices to fit your lifestyle.
Additionally, the book will teach you how to select the best juicers and blenders. It also provides information about juicing on the go and selecting and storing the ingredients perfectly. Crazy Sexy Juice is a powerful resource to super-charge your body.
The book is written by New York Times best-selling author Kris Carr who is an expert on food and overall health.
Check Preview & price on amazon.com
---
Best Juicing Book for Health
1. Juicing for Life – Best Juicing Book for Ailments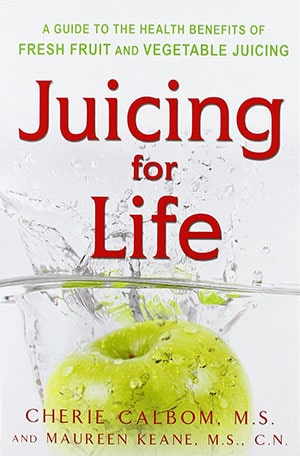 If you are looking for an exceptional but useful book for juicing, then Juicing for Life is for you. It contains the basics of healthy juicing. The most noticeable feature of this book is the discussion on 75 various health problems. This book provides exclusive juicing recipes to heal specific ailments and health issues.
Each page of the book discusses health concerns, general recommendations, and specific juices to treat them. You will learn how to treat ailments in a natural way.
Check Preview & price on amazon.com
---
Best Books on Juice Fasting & Detox
1. The Complete Idiot's Guide to Juice Fasting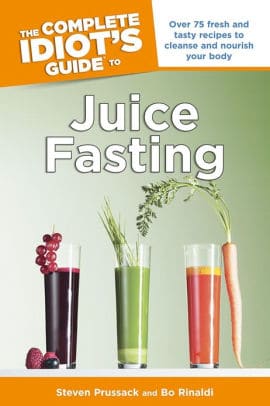 What is an idiot's guide? – It is not for idiots but for beginners. The book includes 75 fresh and tasty recipes that are excellent for healthy juicing. Being a beginner's guide, the book keeps all information interesting and easy to understand.
This is an ideal book if you are interested in exploring juice fasting
The toughest part of juice fasting is finding delicious recipes that will not make you bored during process. This is the perfect book to help you on your juice fasting journey.
Check Preview & price on amazon.com
---
Conclusion
All the books mentioned above contain easy to follow recommendations, juice recipes, and diet plans. In the end, I believe if you are starting out juicing it is not so important what book or juicer you buy, it is more about just getting started.  I hope this post was able to help you find a great juicing book, now get to juicing!
You may also like: Black Friday and Cyber Monday Juicer Deals 2021
DISCLAIMER: THERE ARE AFFILIATE LINKS IN THIS POST. THIS MEANS THAT AT NO COST TO YOU, WE WILL RECEIVE A SMALL COMMISSION IF YOU PURCHASE THROUGH OUR LINK. YOU MAY READ FULL DISCLOSURE POLICY FOR MORE INFORMATION.